An expert's guide to happiness in the workplace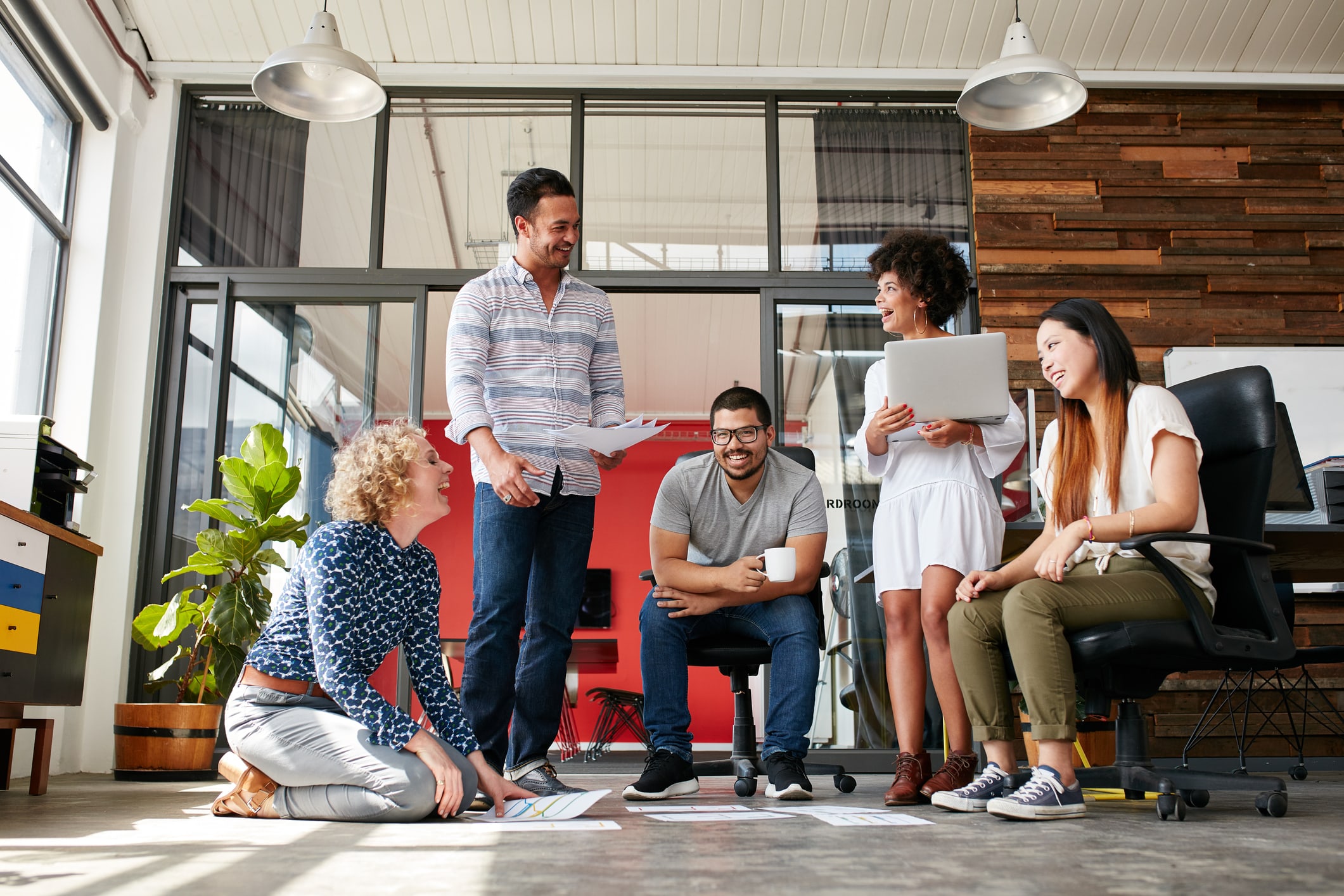 Creativity is best when people are happy and there is psychological safety. When ideas are separated from the person and celebrated or challenged on their own merits, that is when creativity and collaboration thrive." Nic Marks, Founder & CEO, Friday
It should go without saying, but happiness in the workplace is critically important. We spend almost a third of our waking lives at work, so it stands to reason that the happier we are there, the happier we would be outside of work. It has a huge bearing on our overall wellbeing too, which impacts so much in our lives. For example, happier people have stronger immune systems, have healthier hearts and struggle much less with stress. They are also 28% more productive at work. Why then, would we ever want to work somewhere where we aren't happy?
Well, for International Happiness Day, we are going to shine a spotlight on the topic and show you how you can ensure you and your team are happy at work. This exact question is why people like Nic Marks, Founder & CEO of Friday, (formerly Happiness Works) a technology company that measures and tracks the happiness of your employees, exist. "I'm a statistician by trade, and I began my career doing a lot of work looking at alternatives to GDP as a measure of success in the 90s," says Nic. "It lead me to look at people's experience of life and wellbeing. This thinking helped me to create the Happy Planet Index. I thought there must be a way to add numbers to happiness and to show the difference happiness makes. I was then invited to work with the UK government advising on policy and climate change and I was also asked to be on the Board of Action for Happiness."
Fast forward to 2018 and Nic's focus has shifted, but not the message. "I have always been very interested in happiness and the wellbeing of people," says Nic. "And the hardest to reach with policy were always the general population as they tend not to interact with government services so much. They spend most of their time at work. Therefore, I thought I could reach them there and if everyone enjoys work that will spill over into their everyday lives and have a big impact. That is why I started Friday and have dedicated the past six years to making teams happier."
Friday's mission is to improve the world of work so that we can all work happier – every single day. It believes (and has the research to prove it) that a happier workplace leads to improved collaboration, creativity and productivity. "Happy people are better workers and that translates directly to good business outcomes," says Nic. "Our research with our clients, for example, has found that people in happy moods are almost six times more likely to solve a lateral thinking test and teams with happy employees are 28% more productive."
"Organisations are closed systems so you can measure them easily and see the impact of happiness on productivity and the bottom line," continues Nic. "Our initial approach back in 2012 was a large survey with 40 questions that was an excellent measure, it just wasn't particularly practical long term. Since then we've refined our approach and found ways to separate how happy people are and the drivers that are making them happy."
"People who are happy and are more comfortable in their environment are more creative too," continues Nic. "When people feel like they can share ideas without being condescended to, or that their team will support them and work together rather than against them, that is where you see the most rewards from happiness."
So how do you go about making your team happy? What are the core things to look out for and to provide to make your employees happy? We asked Nic those very questions and he identified five drivers of happiness in the workplace:
1. Connection – people want to feel like they are part of something and that they have a genuine connection to the work that they do and the people that they work with.
2. Fairness – people want to work somewhere where they are respected and that they feel is a fair environment for all. They also expect to have a good work life balance and that compassion is a core principle at work.
3. Being Empowered – people want to feel autonomous and that they are being utilised to their full capacity. Every individual has his or her own strengths and they want to use those to the best of their ability.
4. Being Challenged – people want to learn and to stretch themselves. They want to work in an environment that offers them the chance to develop and challenge themselves.
5. Being Inspired – people want to work somewhere that fills them with a sense of purpose and meaning. They want to work in an environment that inspires them every day and makes them feel valued.
"Teams should talk more about their experiences, laugh together more and focus on what works better more often," says Nic. "We have a tendency towards negativity bias and we need to remember to look at the positives. It's an evolutionary thing that causes us to focus on threats since missing them could prove fatal, so we have to work extra hard on talking about the positives. If we can do that then you will produce better work."
Friday is a free to use team-based tool that has been designed to help you communicate more and to help you focus on the positives. It is just the first step to understanding and improving happiness in your organisation. To find out more and get Nic's advice then head to Friday's website. For more tips on staying happy at work, read our advice on managing stress, part of our stress awareness month blog series.