The cloud is an integral part of business success, helping companies - whatever their size, wherever they are - grow faster, and more securely, whilst making life so much simpler.
Last year we heard from Ugly Drinks, BillSave, and Kind Snacks about how the cloud continues to help them punch above their weight, and throughout 2017 I'm excited to share similar success stories. It's the positive and thought-provoking story of how Dropbox Business has enabled rapid business growth, that's resulted in keeping the elderly fed, and helping tens of thousands of Europeans get to know their neighbours!
Welcome to the wonderful world of Share Your Meal, a Dutch company, founded (almost accidentally!) four years ago by Marieke Hart and her husband, and has since won the 2016 Accelerator program award, for social enterprise in care.
Marieke describes it in a very straight forward way: "It's about sharing food with your neighbours: local people, cooking beautiful food, and sharing it. It's a great way for people who don't (or can't) cook for themselves to eat a good, healthy, home-cooked meal. We let them know who's cooking, they select what they want, then pick it up before thanking their neighbour, in a sort of social review."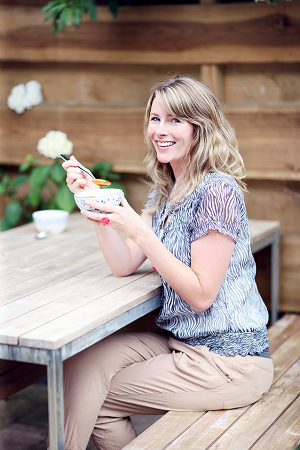 We have lots of incredible food-related customers here at Dropbox Business, but it is truly humbling to hear about the difference that Share Your Meal has on people's lives, and to feel Marieke's passion about making it happen. It's not about profit for her, but about the enjoyment of the experience. She believes that 'food connects people'.
Working for Dropbox, community building and a sense of belonging has become a part of our culture. We take the time and effort to build this into our offices and our teams by making time for shared meals and social spaces, in a similar way that Marieke is activating communities in a local setting, we are doing the same in our business too.  It is incredibly easy to relate to how important this is now and may well become in the future.
I found out that more than 60% of Marieke's business focuses on 'special Share Your Meal' - people in the local community who are either elderly or infirm. They're put in touch with one of the local home cooks and arrangements are made for food once or twice a week. I love that Dropbox Business is able to support this initiative.
And it's not just those that eat the home-cooked food that benefits from Marieke's business. The growth and success of Share Your Meal has been overwhelming.
Here's a summary in numbers to give you an idea:
In total, 260,000 meals have been shared.
50% of those buying meals say they've got to know their neighbours better.
26% of the home-cooks say they've learned new skills.
70% of the special meal users say they're now eating more healthily.
While 80% of the special meal users say there's been an improvement in their quality of life.
What strikes me about this story, amongst many things, is that it started with a personal experience. Marieke mentioned that her and her husband like eating nice food, but they don't really enjoy cooking. Five years ago they approached a neighbour when they smelled great things wafting from next door, which then began an adventure, which turned Marieke into a social entrepreneur almost by accident!
In her case, too many chefs cannot spoil the broth – it just means more broth, for more people! But what's driving the business, and how they're collaborating with so many cooks across different countries?
Marieke says that it's Dropbox! They have used Dropbox from the beginning, to organise and synchronise files, for all full-time staff and for their key partners, to share project documents. She said that without it, they'd have no business.
I look forward to sharing more stories throughout the year about how Dropbox Business is helping organisations grow, to take a read of some of our existing customer stories click here.