According to a research study by McKinsey Global Institute, people spend 39% of their time working on productive tasks, and the remaining 61% of their time managing work; trying to locate missing files, or catching up with others on project work.
If you're self-employed, or a freelancer within a larger organisation – time equals money – so how can you make sure you're getting the most out of your time?
As official supporters of Small Business Saturday UK we've spoken to small business about how digital has helped them punch above their weight, grow their business faster and grow their reach too. We've also heard from creatives about the role digital plays in helping composers collaborate on music across continents, how it enables production teams to source the best talent, and how you can produce an entire movie in a single shared document!
As Victoria Usher, Founder of GingerMay puts it: "By selecting a provider who can manage vital yet time-consuming housekeeping responsibilities start-ups and businesses are free to focus on doing what they do best."
So, we're pleased to announce today that Dropbox is launching Dropbox Professional; a plan designed specifically for self-employed workers—a group that makes up 4.8million people in the UK workforce.
By providing powerful, business-grade tools that allow you to store, share, and track your work from any location — Dropbox Professional helps save you time, without disrupting your flow. The product is packed with other features too; offering additional security and data protection, with 120 days of file version history and remote wipe for devices. You can read all about the features here, but one of our favourites is Dropbox Showcase.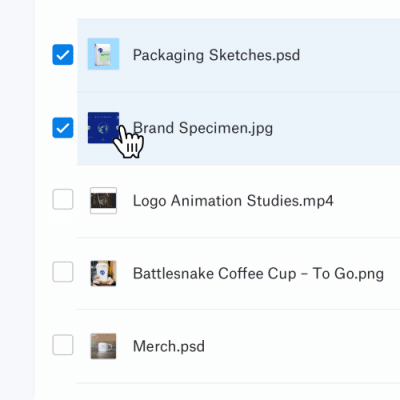 Designed to enable small teams and freelancers to present their work in a single branded page, Dropbox Showcase lets you tell the story of your work; giving people the right content, with the right context, in the right order. Just add your logo, drop in your Dropbox content, customise your layout and share with your client or team. For each showcase you share, you can see who viewed or downloaded your work, and when they did so. You can even see which files are getting the most attention, and which parts are getting overlooked the most often. When someone does take a look, you'll get an email alert, so you know exactly when to follow up.
The product also includes Dropbox Smart Sync and 1 TB (1,000 GB) of space. With Smart Sync, you can choose to store files online-only, so they take up practically no space on your hard drive. You'll still see your files right from your desktop, and anytime you need a file, it's just a click away. Smart Sync will sync the file from the cloud automatically as soon as you open it.
Dropbox Professional users are also set to benefit from the new viewer info feature. Viewer info helps you stay in sync with teammates and collaborators. When you preview files on dropbox.com, look to the upper right corner next to the "Share" button. There, you'll see who's currently viewing a shared file, and who has been invited to access the file.
Finally, Dropbox Professional comes with priority chat support, so you can quickly get in touch if anything comes up. It's business-class support and privacy features, tailor-made for individual workers.
Find out how Dropbox Professional could be used in your business.