International Women's Day: the band of mothers bringing women back into filmmaking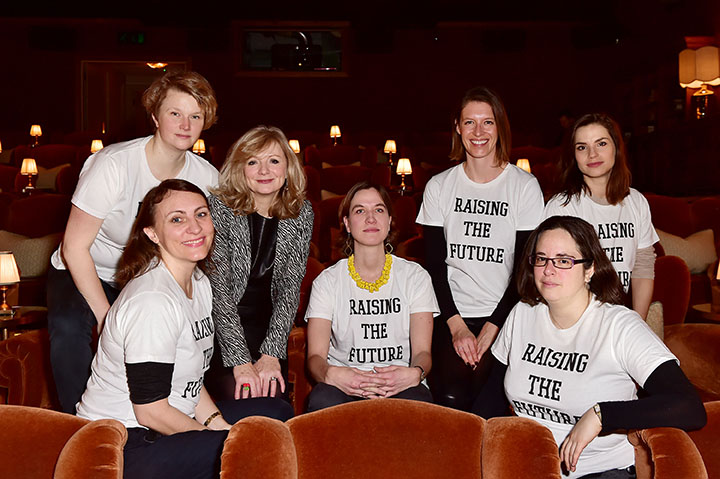 Today, people all over the world are being urged to #BeBoldForChange to "forge a better working world – a more inclusive, gender equal world".
This International Women's Day we're proud to be sharing the story of Raising Films – a campaign to address a problem its co-founder Hope Dickson Leach says is a stark reality: "There just aren't enough women in filmmaking and TV."
It's an argument backed by stats in both the US and Europe. For instance, research from San Diego State University shows that last year just 17% of writers, directors, producers, editors and cinematographers in the US' 250 top grossing films were women.  Around the same time, a Directors UK report found that across 10 years of filmmaking in Britain, just 13.6% of directors were women.
But Hope says there's an issue running so much deeper than just figures, in fact according to her it's an issue that's robbing the viewing public of a huge pool of talent. "Getting a foot in the door is hard, really hard, but imagine what happens when you're trying to raise a family too."
A recent study for Creative Skillset shows only 14% of women working in the UK film and television industry were parents, compared to a staggering 74% across UK industries as a whole.
We first met Hope as a Dropbox Discovery award finalist at TIFF with her powerful portrait of family and grief in The Levelling. Now the screenwriter, director, and mother of "ever-growing boys" sums up her own predicament: "Last year I found myself jealous and frustrated by not being able to leap into this movement of low-budget film makers. Because I have a family I couldn't just direct a budget film and sleep on someone's sofa for six months, not worrying about rent."
Hope says, "My realisation about the bleakness of my situation led to a conversation, and a social media call out for people who might want to do something about this issue.  As a fledgling group, we then took a survey – the first of its kind – in which almost 8 in 10 respondents (of all genders) felt that parenting and caring had a negative impact on our career in film and TV."
Now a group of six motivated women, brought together by technology, and bonded by this statistic, Raising Films has been born; a campaign to level the playing field for women and working families in the film industry.
Another Co-founder, Jessica Levick, is a Freelance Producer and mum to a daughter who's just a year old.  She says, "I'm really learning how to balance family life and work now – and it's tough.  The producing side of my life wouldn't stop for maternity leave so I found myself organising screenings at Sundance for my most recent short film with my then-4-month-old either asleep or feeding on my lap.  I recently negotiated a co-production contract in the middle of the night in the half hour I had free once she fell asleep!"
Raising Films has identified a series of priorities: tax relief for childcare, more availability of flexible and part time roles, job sharing opportunities, shorter filming days and on-set care.  And recently announcing a partnership with The Cinema and Television Benevolent Fund to create a Family Support Fund, they're already on their way to success.
Jessica says, "If we can help one single person take a job that they otherwise wouldn't have been able to accept due to the cost of child or elder care, that is success for us.  The fact that within two weeks of launching the fund, we've already given support to six people is amazing and shows the very real need for this sort of support to exist."
Struggling to find time to all work together – or be together, given the six women live all over the UK – has been one of the first hurdles.  "Without technology that allows us to communicate from our own homes within our own time scales, we couldn't do any of this", says Hope. "We use email and Skype to communicate directly, and Dropbox forms a crucial part of our organisational machinery to keep all our work together and updated. It provides us with a virtual office, a place where we can work together, to collaborate, no matter where we are, to help push our campaign forward. "
Film, after all, is by its very nature, a team sport so collaboration comes naturally to them all.
Sophie Mayer, a third member of Raising Films is a feminist film scholar, critic and curator, she says, "We define collaboration as working together as a team, using each other's strengths in order to get the best possible results, pushing each other onwards. It's about taking turns to hold the baton, passing it on, supporting one another.  It's not about who came up with what, it's about where the ideas will take us – and in the case of Raising Films, what we can change, for all of our contemporaries and those that come after us."
There's so much more to Raising Films, we'd urge you to go take a look at what they're doing. And don't forget to join the conversation today, and #BeBoldForChange.