How being 'KIND' grew an SMB into a US giant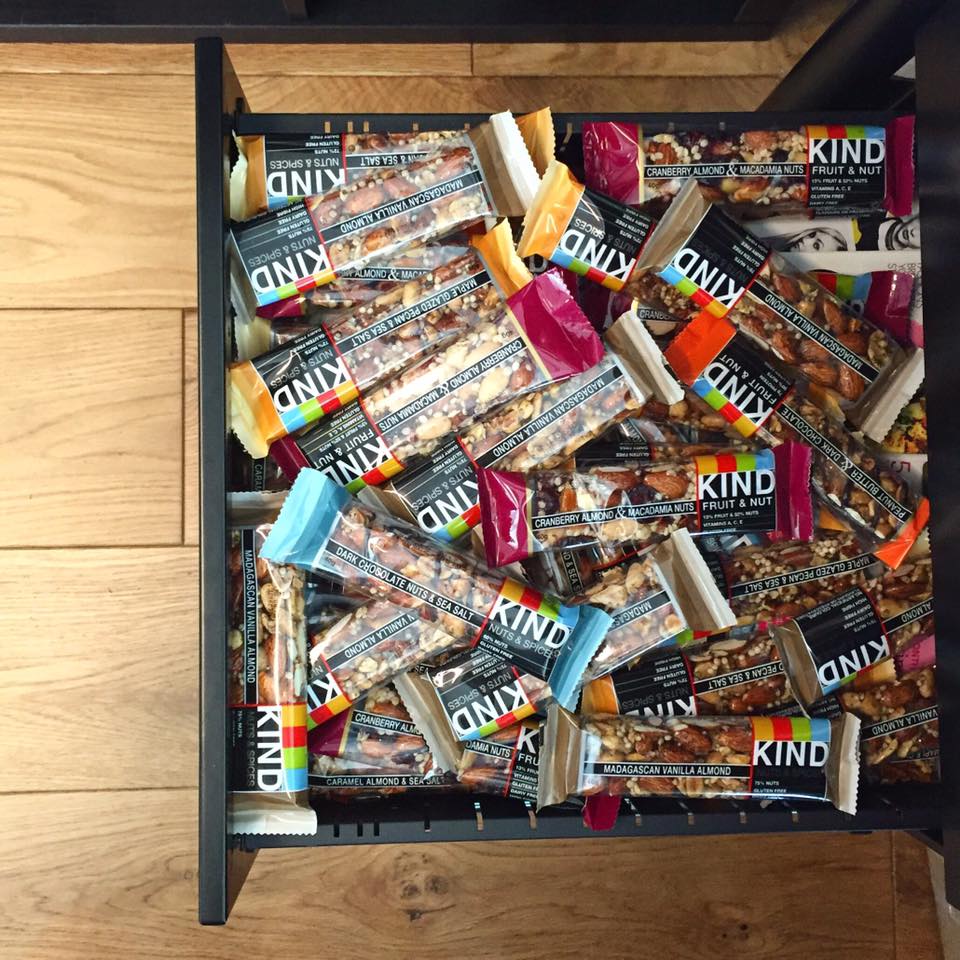 It's not often charity and profit go hand in hand in business, but our latest story is a heart-warming one.
KIND Snacks is a brand that's big in the US, but not so well known on this side of the Atlantic. In fact you'd be forgiven if you've never heard of them as they've only just started selling to the UK market. But from what we learned during our time inside their office, KIND is certainly a company that really lives up to its name.  Founded on an ethos of creative delicious and nutritious snacks with a clear social angle, its creator, Daniel, was looking for a way to pay forward a century of kind acts which benefitted his family.
Since he was a child, Daniel has always been looking to push kind services through entrepreneurial pursuits, bringing people together to create good in the world.
KIND is a snack brand – wholesome ingredients wrapped up in a feel-good ethos in which KIND is regularly investing money into positive community activations.  And after more than a decade in the US, KIND is consistently named as the fastest growing snack brand in the country, worth a billion dollars in retail – yet giving away hundreds of thousands of dollars a year to charitable causes.
John McManus, is the UK Marketing Manager for KIND, where the brand was launched last year. At Drop Everything we caught up with John to find out how things are going, on year on:
Growing a US brand in the UK
"We're very much trying to grow the brand in the UK in just the same way as we did in the US. It's about creating an amazing product with an extremely strong social ethos.  Just as in the US, our webpage will have 'Kind Causes', where people can nominate recipients for donations, grants or simply voluntary support.
Our staff do two things: promote our brand and build retail sales whilst alongside that, going out and helping communities – whether that's through donations of bars, cash or time.  Making sure we have feet on the street is very important to us.  It's not all about sales.  For example, we've just partnered with the organisation SE1 United which helps people get off the streets and into situations where they can better themselves."
Taste versus ethos
"I think ultimately our explosive growth in the US is down to a bit of both.  The bar is nothing like anything else on the market in terms of taste profile and the punch of the whole nuts we use.  Coupled with our loud and forward thinking business ethos, we find we have a large cult following.  We're not afraid to have opinions on social situations, on what's right and what's wrong, what's healthy and what's not – and people catch on to that."
How to overcome a challenging UK market
"In terms of the 'To Do List'– the first thing is trial.  We must get people to try our product so they see for themselves that there are no other bars quite like ours in terms of quality and the effort we put into making it different.
The biggest challenge though is the retail landscape's obsession with red and yellow tickets: promo lines.  Some of our competitors are on promotion for a large percentage of the year, just giving away profits but for us that's a challenge.
In our first year we smashed our target – managing to do about half the amount of promo compared to other brands."
Making IT agile
"The big thing here is that we're a very big company in the US; we've got 300 plus people working for KIND Snacks.  But, in the UK we've only got 6 full time staff so we need a light and agile solution which allows us to be flexible, to keep costs low and to be reactive.
As a result, we use Dropbox daily to upload files, share pictures and communicate between the team.  Our office is so tiny that we often work out on the road, out of coffee shops, or at home, so that line of secure communication is vital."
Is complicated IT a distraction?
"That's absolutely true – pre-Kind too I've had these sorts of issues.  As a team of 6, I'm not just a Marketing Manager, I do it all – and it's the same for everyone else. You have to wear different hats and you need the stuff you work with to be as flexible as you are.  I think IT is often the stumbling block and if you don't find an agile, low cost solution, which works straight away, you find yourself needing to go back to pen and paper to make it work.
Dropbox enables us to be mobile, which is turn means Dropbox enables us to build our business in the UK."
SMBs need collaboration tools
"Especially in these early days, collaboration is going to be one of our main marketing strategies because I know how hard it is to push your cause forward to the public who are pessimistic and resistant to change.  We need to market to a like-minded community by connecting and collaborating with like-minded brands, so for 18-24 months one of our big strategies is collaboration.
Our goal is to be the No 1 healthy snack brand in the UK. It's a £100m plus market here and we want to be the ones people are talking about within that category, so our desire is to double our distribution in year two.  Our internal aim is to dominate London next year – coffee shops and offices, as well as the larger stores. We want to be the go-to brand in 2017.
It's about getting people to look at us and to think we have a tone of voice and an opinion on social matters and health & wellness, and that's where it goes back to the social movements we're trying to create and collaborating with influencers, social media and other social brands to get that message across."
My advice to SMBs
"I think one attribute of our UK team is that we're confident in our own ability, and that's because we're really good at doing the stuff that's really high effort and will push the needle in our early days.  Often results are minimal but if you're seeing successes, if you keep going, something big will come of it and things will turn.
We find, especially in London, businesses have an expectation of success, and often, people wonder why it's not working, but they're not looking at how they're working – at where they're putting their effort.  If something's working, focus on that; don't spread your work across lots of disparate projects.  For us as a team that's our mantra – if something's working we know it can do even better so let's double down on it and make it a success."
You can find out more about KIND Snacks on their website here, or by following them on Twitter here.