Scaling a small business in Africa with Dropbox Paper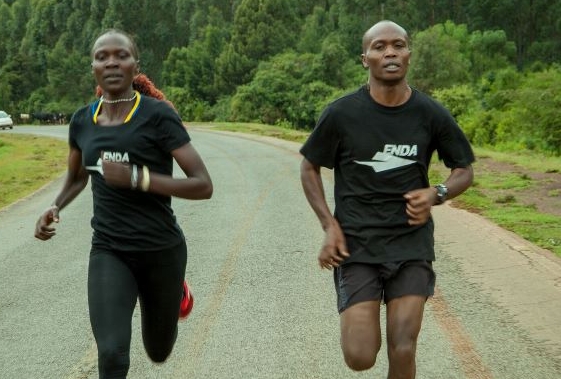 "Although we're rarely all together, in one place, we want people to feel like part of a team – Dropbox Paper helps us do that." Weldon Kennedy, Co-Founder, Enda Athletic
How's this for a back story; a small social business from Africa, inspired by its country's crop of record-breaking athletes, aiming to make the first ever wholly produced running shoe in Kenya. And the real motivation behind it all? Enabling new jobs, and building brighter futures, for thousands of people in Kenya.
When we first spoke to Enda Athletic last year, the response to our blog was exceptional, with dozens of well-wishers messaging us to say how inspired they were.
And in the six short months since, it's clear the business has moved forward, and moved quickly too – in fact it seems it's moving as fast as the trainers the founders are producing.
Co-Founder, Weldon Kennedy picks up the story: "It's really happening! Although there are some aspects of the production cycle that are still reliant on technology and expertise from other countries, we're starting to do much more right here in Kenya. We've done some test assemblies, and are getting ready for the final shoe assembly in the coming weeks. We're on our way! To date we have close to 2,000 pre-orders for Enda trainers, including a fair amount of sales through our own website, plus major retailers are placing orders too."
When we spoke last week, Weldon explained that now they've started producing the trainers, the next 'big thing' is ensuring their small business model is scalable:
"Should we get an influx of orders it's important that we're ready to expand the production line. One of my past frustrations has been how long it took to go from funding to shoe. Ensuring we're making a top quality shoe – that is produced wholly in Kenya – will be tricky. But we're getting there, and in this production process we've set the whole thing up so it's replicable and scalable. Using our existing production process we could produce tens of thousands of trainers a year."
But what is the role of Dropbox? According to Weldon, Dropbox Paper is now playing an important role in helping them build their business globally: "Our team is working in China, Kenya, New Hampshire, New York and Massachusetts – Enda Towers is a non-existent building at this point, it's just wherever people need to be. We're rarely on the same time zone, so we're never in one place to write things on a whiteboard, so Dropbox Paper has become our virtual whiteboard. It shows us what the week looks like and who needs to action what, when. We can't grow or scale our business without it."
Weldon continued: "For the last decade I've used various apps and services for meeting notes, but they get really slow. We switched to Dropbox Paper as soon as we started exploring it – because the user experience is great – it does exactly what you need it to do."
Weldon says when it comes to businesses like Enda, being able to collaborate allows great things to happen: "There are six of us collaborating on Paper docs, and although we're rarely all together, in one place, we want people to feel like part of a team. Dropbox Paper helps us do that."
So the Enda Athletic story continues, and we'll be following them across the next 12 months to see how much more of the production cycle they can move to Kenya. In the meantime, if you're interested in finding out how Dropbox Paper could help you scale your small business, take a look here.
To find out more about Enda Athletic and follow their story, click here.