Scriberia: Creativity meets communication in the cloud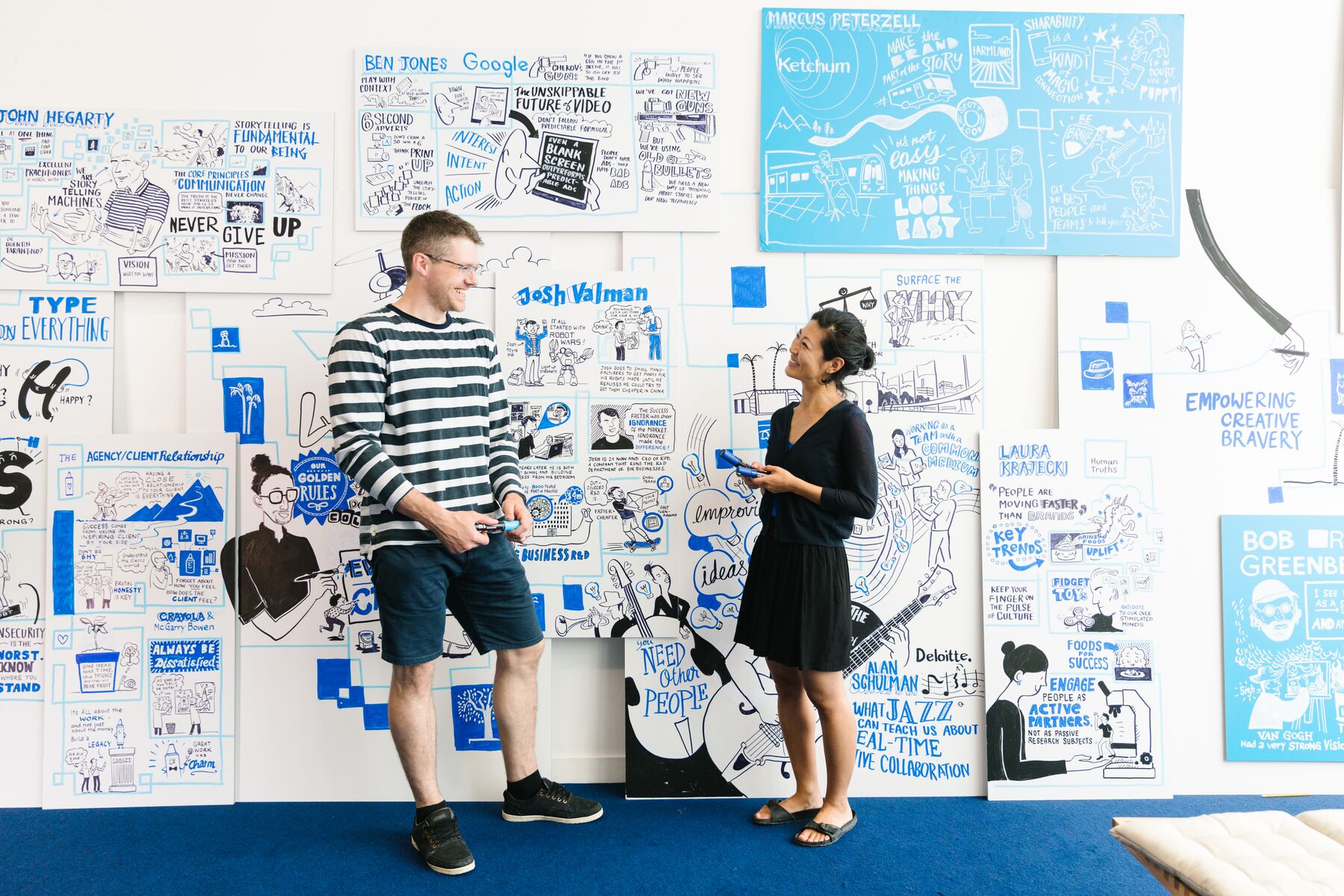 Regardless of the project, it takes intelligent collaboration to deliver first-class results. But, working in the creative industries and delivering visual projects for demanding clients requires it even more so. When you need to convey important messages in a coherent way while demonstrating and reflecting 'the brand', it's a tightrope walk that balances on successful communication.
This was the message that rang out loud and clear when we met with Scriberia at Cannes Lions. Scriberia is a creative agency that helps companies visualise information and concepts. They take complex ideas and construct simple and impactful ways to visually communicate them.
Matt Kemp, Senior Visualiser at Scriberia explained to us that, "Scriberia is built on a belief that pictures can bring clarity to complex ideas, making them easier to share, understand and engage with. At work, when you're drowning in paperwork and bad presentations, it can be hard to see what's really important. So, we set out to create 'hardworking pictures'; pictures that, with a bit of clever visual thinking, do all the heavy-lifting when it comes to getting an idea out there."
From those humble beginnings, the company has blossomed into two distinct divisions. "On the one side, we have services like live event scribing – as we did at Cannes Lions – where our illustrators create a visual synopsis of the event's content; something people can engage with throughout the event, and reflect on afterwards. Back in the studio in London, the team also produces 'rich picture' illustrations, animations and other visual assets. But the flip side of our business is dedicated to helping clients across all sectors to develop their own visual thinking skills.
Because, no matter what you do for a living – whether you just have the seed of an idea, or you're perfecting your pitch – these skills make thinking, working and communicating so much easier. We run workshops, we share our expertise with our community, and we've just published our first book, How to Draw Anything," Matt says.
In a world where brands are fighting for attention, being able to deliver something memorable and impactful is a powerful asset.
This has meant an increase in interest for Scriberia's work and has ensured that everyone can put their creative energy to work "There is never a shortage of work and it comes in all shapes and sizes, from all industries whether finance or education. With so many projects running, it is vital that we are all able to come together and work intelligently, collaborating freely from anywhere. And this is where Dropbox has been so vital."
"There's two groups of people I collaborate with when I'm working," Matt continues, "there's my colleagues who'll be alongside me on the job, making sure we are aligned around the goal and the creative. And then there is the client. Using Dropbox, the whole process has been simplified. We create shared folders that our clients can access from anywhere, at any time. It's saving us valuable time and energy which can be reinvested back into our projects."
Creative projects carry hefty file sizes. They can be particularly unwieldy when it comes to sharing them with clients around the world and even worse when deadlines are short. Dropbox has helped Scriberia solve that challenge too. "It's so reliable and easy to use, anywhere in the world. No memory sticks required. Clients can view the work without having to worry about downloads and we can collaborate on creative work with clients all over the world."
To find out more about the work Scriberia is doing in Europe click here. Or, to find out how other creative companies are using Dropbox to unlock their creativity click here.