When storytelling meets science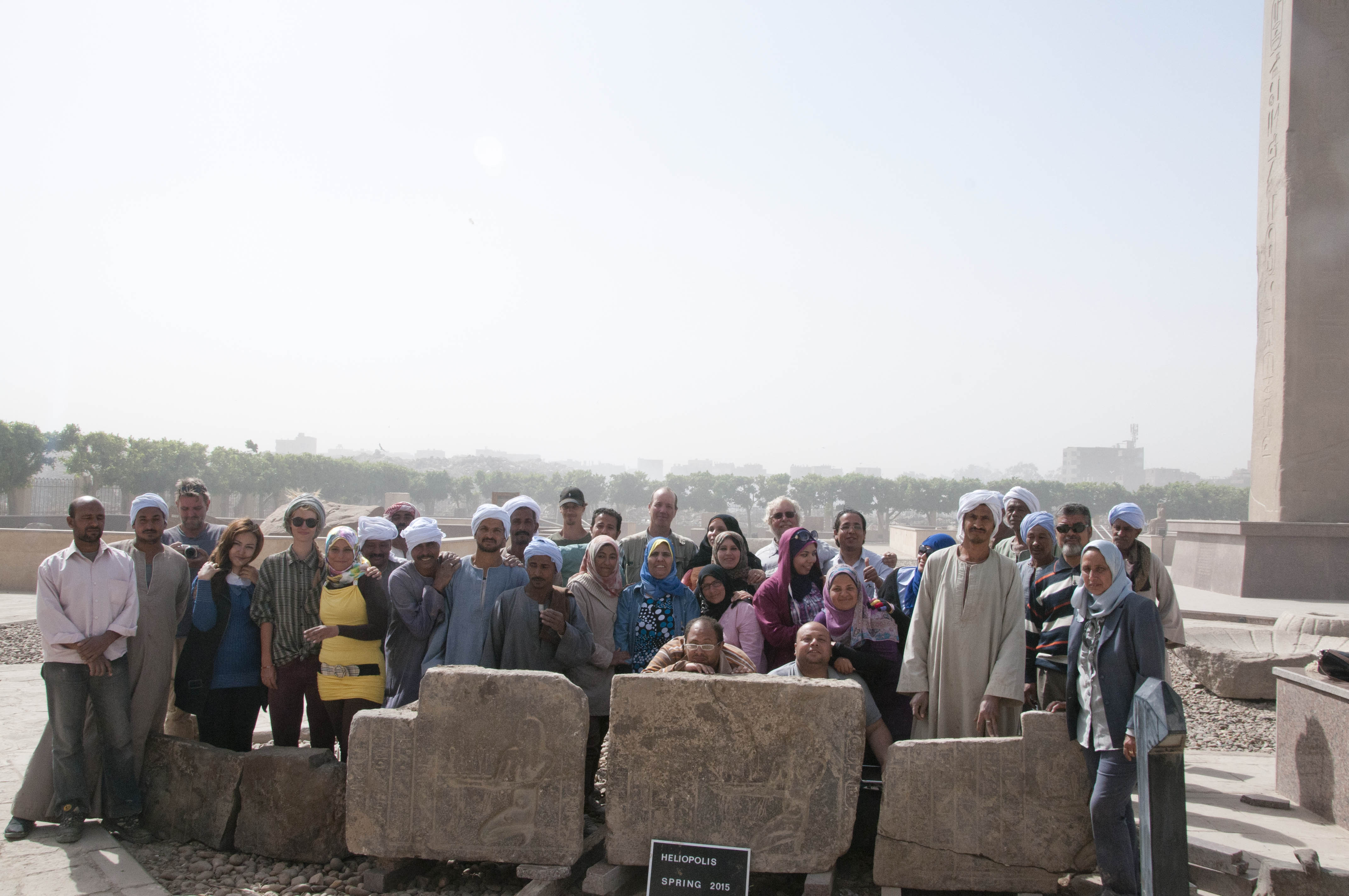 At Dropbox, we champion teamwork in all its forms and know from our customers, amazing things can happen through collaboration. From the partnership between Garsington Opera and the Philharmonia Orchestra, to the team that worked on the Oscar nominated soundtrack for LION, memorable storytelling comes through exceptional teams working seamlessly together.
Archaeology is another form of storytelling and arguably the most interesting kind; unearthing the stories that changed the course of human history. So, we were thrilled to speak with Dr. Dietrich Raue from the University of Leipzig. His life's work has revolved around the study of Egyptology and archaeology; discovering ancient ruins to tell the stories of our past.
Since 2012, Dr. Raue has Co-Directed the Heliopolis Project, while Dr. Aiman Ashmawy has Co-Directed the Egyptian Ministry of Antiquities. Together these experts have created an Egyptian-German joint venture to excavate the site of the ancient Heliopolis city – a major city and religious centre of ancient Egypt.
While much has been discovered over the years, the accidental unearthing of the torso of the base of a statue depicting Egyptian pharaoh Psamtik I (664-610 BC), is one that's made headlines around the world: "It was definitely a surprise. The proper archaeological field work of the base was almost done, when we found two fragments," explains Dr. Raue. "When we started draining the pit, we noticed it was a lot bigger than expected!"
The figure of Psamtik I was barely visible at first, with the team initially expecting fragments. But, with that discovery, another line was added to the chapter of Egyptian history. But even storytelling about the ancient world relies on collaboration, teamwork and increasingly, technology. Dr. Raue explains: "We have a team of 20 specialised workman from upper Egypt who have been with us since 2012. Their great, great, great grandfathers worked for the German missions in 1903. Then we have over 100 people from the neighbourhood working with us during the digging seasons. All in all, we have about 150 archaeologists, restorers, specialists and workmen working on the Heliopolis project."
The concept of a team is being redefined in the modern workplace across industries, including ancient dig sites. For Dr. Raue and Dr. Ashmawy that means recruiting the best from around the world and leveraging technology to ensure they can all stay on the same page both when they're on site and when they're distributed across the globe doing their analysis. While locals are responsible for the Heliopolis Project 12 months of the year, Dr. Raue also has foreign specialists from around Europe come to lend their expertise. However, they only visit twice a year and stay only up to five weeks: "This means during those five weeks, time is of the essence to ensure we utilise their skills."
This leads to incredible feats like the discovery of Psamtik I where Dr. Raue says it's vital teams share a common vision and are in constant communication with each other: "Our team is large but we couldn't do what we do without every single one of them. When working in archaeology, it's important to not only build a team with the necessary skills, but a team that is passionate about the same goal as you. That's when discoveries happen."
And according to Dr Raue, like the 19th century maps and reports that are still used in archaeology today, these digital archives will be used for centuries: "By storing information digitally we are creating an archive of information that be used/accesses for centuries; either for future research or to for incorporation in new excavations."
To help the team bring old artefacts even further into view of the modern world, Dr. Raue and Dr. Ashmawy says there's new, innovative technologies that are helping: "Though the documentation in the field is still largely analogue, for the past two years we've been using 3D technology more and more. This has saved us a lot of time and made other people's information shareable amongst the entire team through real time reporting." Technology further supports as Dr. Raue and Dr. Ashmawy rely on social media and a project website to share consistent updates from the excavation, to keep people engaged in the project. This is especially important for the specialists who are only on site for brief bursts and as Dr. Raue and Dr. Ashmawy have three separate digs in the temple running concurrently, communication and collaboration are vital.
But the story telling doesn't just finish with the discovery. While finding the buried artefacts is one of the biggest challenges, driving awareness and engagement, according to Dr. Raue, is almost harder. This is where the Leipzig Museum is crucial for communicating discoveries to audiences beyond the dig site through lectures, special exhibitions and Public Relations efforts: "Discoveries help on the one hand – but they are also a great responsibility. You really have to wait for the right one that will capture people's attention and then share the information in a way that keeps them interested, and help people make a rich connection with our collective history."
Leipzig also takes part in Night of Museums, an event where it sees over 3,000 visitors come to the museum from 6pm – midnight, highlighting our fascination with the past and necessity for up-and-coming Egyptologists, many of them Dr. Raue's and Dr. Ashmawy students, to understand how to communicate with the public.
To truly inspire the public to engage with ancient history though, Dr. Raue says nothing beats face to face communication: "Egyptology is a small discipline, so we have to make sure we talk about it in the most effective way possible. Social media and online media is very effective, but we also give a lot of lectures to the community so they're aware of what we're doing and have the opportunity to ask as many questions as they'd like. And in my world, there are no stupid questions, only bad answers."