Dropbox is transforming work as the world's first smart workspace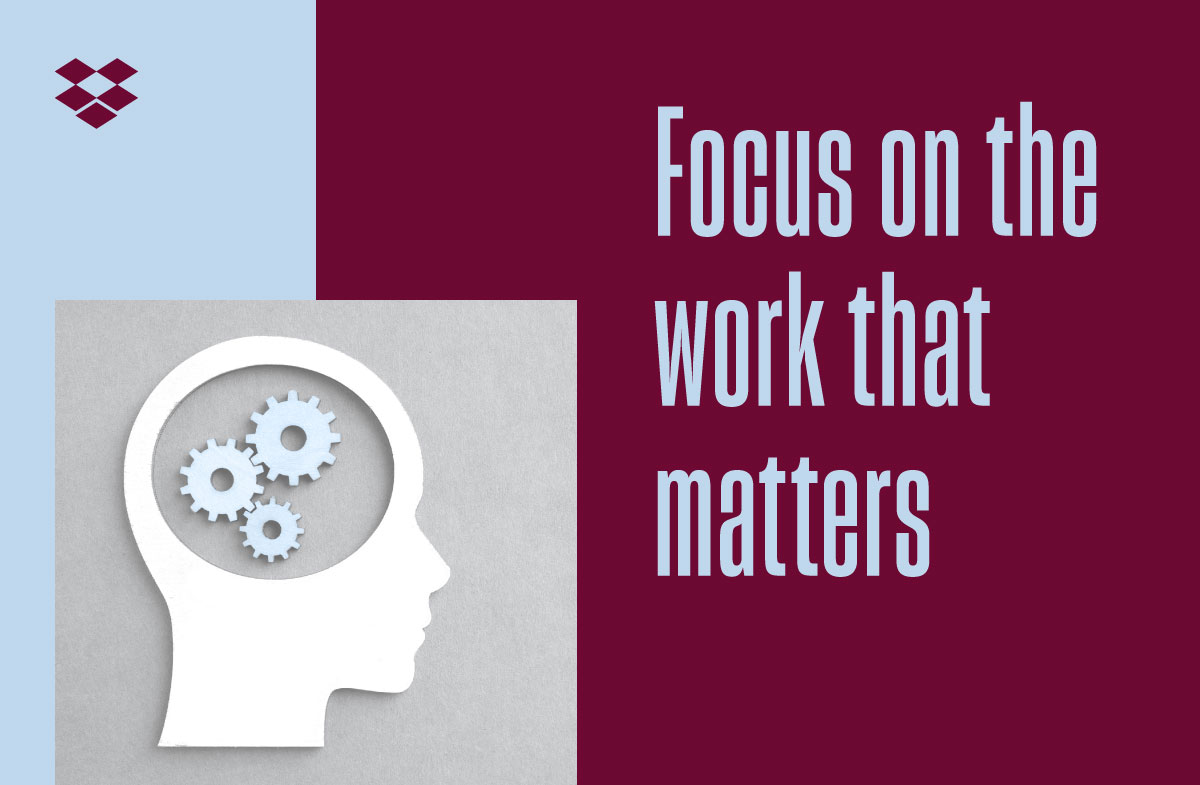 The workplace, and the way we function within it, is broken. We've witnessed huge technological progress in the last decade, computing power has grown exponentially, and we now have more tools and applications available to us at work—all of that should have made work easier.
But instead, the numerous tools and technologies that we once welcomed as productivity-boosters, streamliners, and efficiency-gainers are now disjointed distractions, hindering collaboration. In fact, we're switching between applications at work every six minutes.
And, it's not just employees suffering from all the distraction; over a quarter of business leaders admit they now spend 29% of their day on tasks that do not add critical value to the business.
We're not working smart. As it becomes harder to get important things done during work hours, we're working more during off-hours to try to keep up. But even as we creep toward a 24-hour workday, global productivity is stalling.
So we've imagined a new, smarter workspace.
What does it look like?
The smart workspace is a digital environment that brings all of a team's content together with the tools they love, helping users cut through the clutter and surfacing what matters most. It comes to life with the launch of Dropbox Spaces, the evolution of the shared folder into a collaborative workspace.
Dropbox Spaces is now part of the new Dropbox, announced earlier this year, and also includes new features developed through the company's machine intelligence platform, DBXi. In addition, we've added several new collaboration features across Dropbox surfaces including desktop, mobile, and web apps.
How will it help you build a smart workspace?
This completely new experience brings together your most important content and tools into one organised place, so you can stay focused and in sync with your team.
We know that seeing is believing, so we're offering live demos, tailored to medium to large deployments, to walk you through this completely new experience. Our specialist will explain how Dropbox:
Transforms your folders into collaborative workspaces—with Dropbox Spaces, the evolution of the shared folder. Built with machine intelligence, Spaces helps teams stay focused on their most important work, and gives them new ways to stay in sync.
Connects your content to the tools you use every day like Slack, Zoom, Atlassian, Google, Microsoft Office 365 and many more.
Simplifies team management with the enterprise console, so you can maintain high-level control and visibility while also delegating control where appropriate.
Empowers you to safeguard company data, monitor activity, and control usage with advanced security features and support for standards and regulations like GDPR and SOC 2.
Enables action with new insights from our activity page and rich interface for searching, filtering, and reporting—including shortcuts to allow you to take quick action for remediation.
Find out how a smart workspace can benefit your business
Request a demo