How Transmission connected a global creative team in one collaborative platform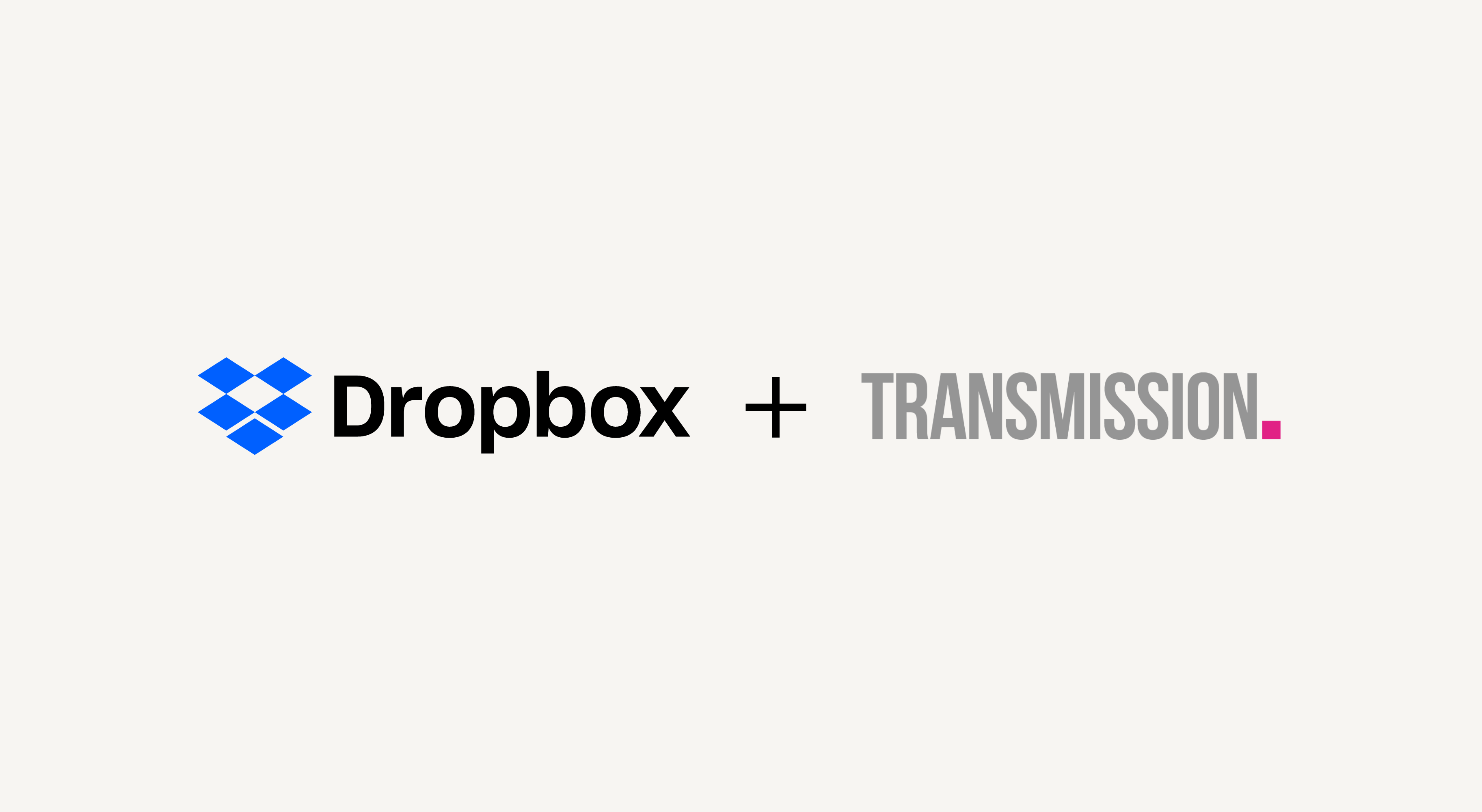 When you collaborate on over 7,500 documents each day, boast nearly 350 employees in offices around the world, and create a staggering 15TB of creative content each month, being able to work together seamlessly from anywhere is priority number one.
Which is why Transmission, a global creative marketing agency, deployed Dropbox Business to facilitate collaboration, and today, the business is keeping work organised and securely managing creative briefs for hundreds of global brands.
But, it hasn't always been so easy. 
Rapid growth into new territories, the inevitable growing pains of disparate tools in different locations stifling workflows, and the onset of a viral pandemic have thrown in a variety of significant challenges to be overcome.
To hear how the agency has overcome these and been awarded B2B large agency of the year, we spoke to Alex Wares, Transmission's UK Managing Director.
The need for a centralised collaboration platform
"As a creative agency, innovation and engaging creative output are your raison d'etre," explains Alex. "If you fail to keep up with the pace of innovation or deliver poor creative quality, clients will take their business elsewhere."
As we grew into new territories we started to notice workflows becoming more complex, processes a little more fractured and that delivering quality work on time was placing undue strain on our creative talent.
It's a familiar problem in fast growth organisations—particularly when growing internationally. New offices had been opened, new clients taken on, and new tools deployed in regions to facilitate the work.
"We immediately recognised that working from this disconnected web of different tools was making creativity, collaboration and compliance harder than it needed to be," explains Alex.
"The knock-on effect of having multiple file versions, converting documents and working in different platforms was stealing valuable time that would be better spent delivering output and ultimately results for clients. We had to get everything centralised."
Empowering teams to work how they want
Despite the need to create a more unified way of working, Transmission didn't want to dictate to its creative teams what tools they could and couldn't use in the creative process.
"One of the biggest challenges any business faces is balancing freedom and security," says Alex. "Part of our modus operandi as an organisation is to be curious and break convention – finding new ways to solve problems.
What we needed to find, therefore, was a solution that provided total document security but that was flexible enough to allow our teams to work together with the tools they already know and love without restriction.
Having assessed a number of cloud providers, Dropbox was selected as the tool of choice for its high level of security, seamless integrations with core tools like Adobe, and unrivalled collaboration features.
"There's the added benefit of Dropbox Paper too," Alex adds. "Our teams can now quickly brainstorm ideas, share to-do lists, and collaborate on trackers with colleagues and clients effortlessly."
Fuelling compliant and secure growth
Expanding into new territories is fraught with risk. New customs, new customers, new operating models, and new regulations all have to be considered and adhered to.
For example, the GDPR regulations that span Europe are not comparable to other territories around the world. Working with sensitive client data—often under embargo—meant that for Transmission, compliance and security were a key component of any solution.
We developed a product based around social selling, hyper web personalisation and lead generation that accelerated because of the pandemic.
"Its success allowed us to invest in new areas and grow. With that growth came security demands and compliance requirements any tool we used simply had to adhere to. Dropbox not only does this, it acts as a calling card for someclient – merely citing Dropbox's encryption standards is enough to prove compliance."
By centralising data in one location, Transmission is able to apply granular access controls to individual documents and folders, enforcing the highest levels of security across the organisation. "Our creative teams now know where to find things, are confident they have the latest version, and can work together at pace ensuring we meet the demand of clients and remain as innovative as possible," says Alex.