Dropbox Showcase: A new feature to help you grow your business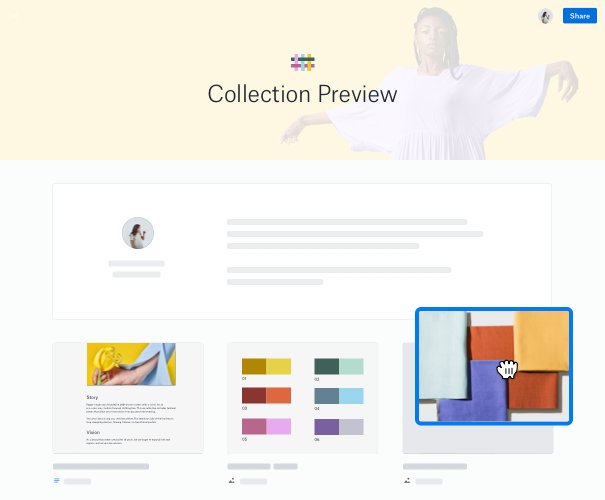 When it comes to growing a small business you'd expect to follow a traditional path; set up your business, grow your team, and invest in office space.
But for UK-based creative design agency Door 22 Creative the process was reversed. Founder Emma Nicol grew her business and physical studio space in Brighton for 15 years before deciding to relocate to Derbyshire. Keen to 'take' her team with her, she closed the Brighton based studio, moved over 200 miles away, and invested in a researched set of collaboration tools so her team could continue to work together, virtually.
With a team of ten now working remotely from Brighton and Derbyshire, Emma told us they now have even more freedom to put their creative energy to work: "Collaboration tools are so powerful, they allow us to feel like part of a team – and more importantly, part of our clients' teams – regardless of where we are based."
So, knowing Dropbox Showcase – a feature of Dropbox Professional was about to launch – we asked Emma to put the feature through its paces. As a creative team that's 100% virtual, what better test is there?
Designed so small teams and freelancers can present their work in a single branded page, Emma believes the product offers a 'VIP lounge for clients'. "It soon became clear that Showcase is a space we can brand up for our clients, so it looks like they're working with us in their own branded, client portal," she says.
As most of Door 22 Creative's customers are already working with them in Dropbox, a new feature that has the potential to bring all client work together, under one roof, has the potential to change how the team manages projects. "Dropbox Showcase will allow us to bring everything together – and help us track amendments. It will bridge the gap between reviewing, providing feedback, and updating a client project, which will reduce email clutter and save us time," she says.
Another inbox saving element is the ability to track views – which means you can say goodbye to the 'just checking you received this' messages. Emma says: "It's nice to be able to track views, ensure the entire team is looking at the latest content, set tasks, and send prompts when needed, all in a single location. It'll definitely help keep projects on track and speed up the sign off process."
For Emma the "reply all' culture is laboured and has confused the creative process: "When having to refer back to emails for information and visuals, the creative process becomes very disjointed. While there are lots of project management platforms out there, Dropbox Showcase has the potential to compete. It brings lots of different functionalities together and makes us feel like a part of our client's team!"
Emma believes most creative companies are already using Dropbox in some way, so Showcase offers "added value": "Because of the simplicity of the interface it doesn't bulk you down in any additional admin, you are still concentrating on the project and conceptualisation of the creative process. If used in a creative way it will be really powerful." She continues: "Dropbox Showcase is a very robust place to share assets, particularly for projects that have a wide collective team of creatives and clients spread over various locations. It will definitely change the way we communicate and collaborate, allowing us to become even more efficient."
And since it's a part of Dropbox, for Emma "there's an element of trust immediately. Sharing in Dropbox Showcase is as simple as Dropbox has always been!"
To learn more about Dropbox Showcase and how it could improve collaboration for your team and clients, click here.