Team Dropbox: adventures with a giant panda – Twin Town Challenge 2016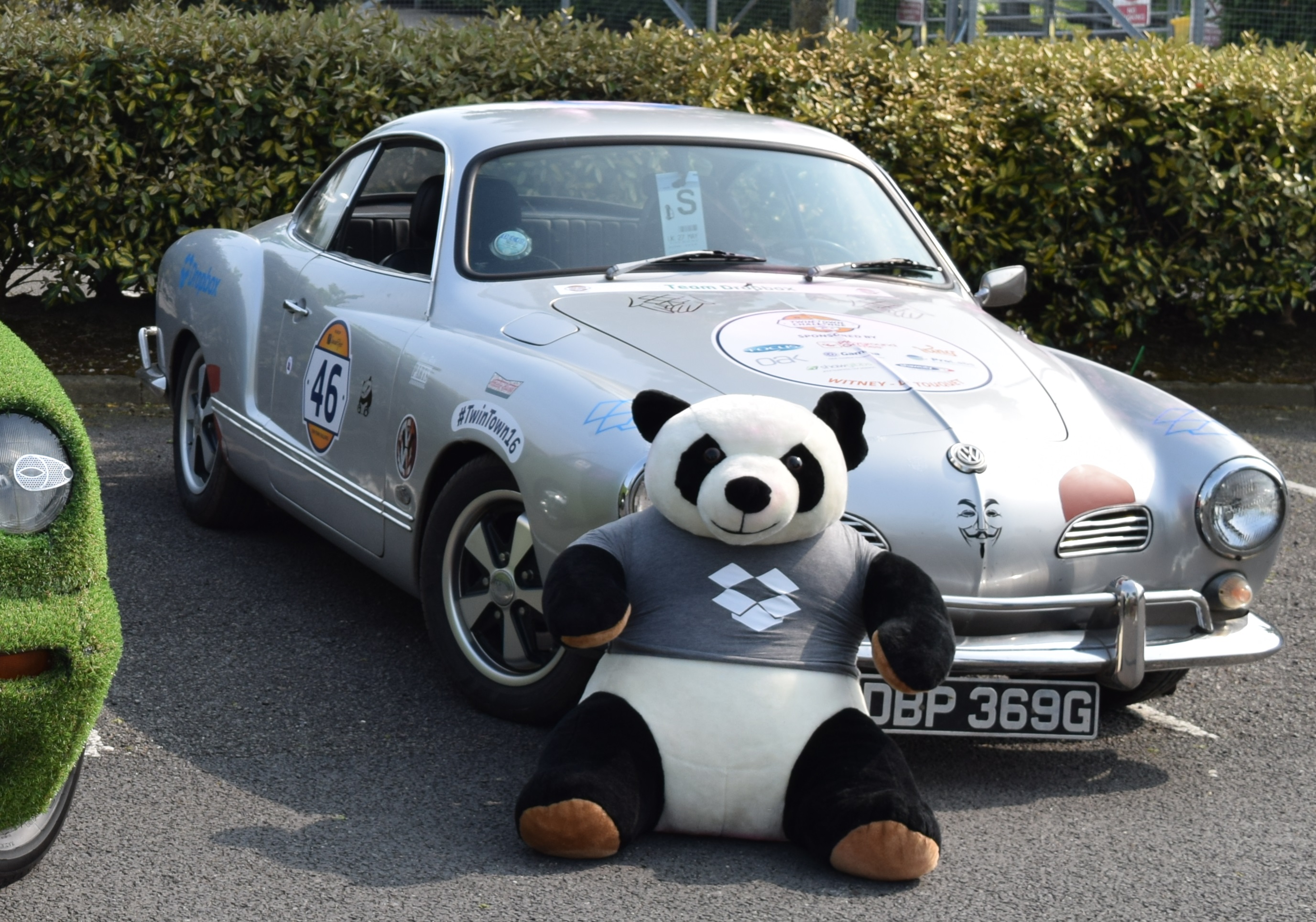 It took two of us to get him in the car. Dropbox's mascot – our giant 4 foot stuffed panda – that is.
The car itself was a brilliant 1969 Karmann Ghia that we found rotting in a shed, and persuaded the owner to let us buy it and take it on one last epic trip.
And epic it was. Twin Town Challenge 2016 saw around 100 cars drive from Blenheim Palace in Oxfordshire to Le Touquet and complete a series of mad challenges over three days, all in the name of charity. Dropbox supports Special Effect – a charity which helps young people with disabilities learn through technology – as part of our Dropbox for Good initiative. You can find out more about this challenge, which turned out to be Special Effects biggest fundraiser yet, in our earlier blog here.
Let me introduce 'us' first. My name's Jason, lead driver, father of one, probably too old to be hanging out with Pandas, but possibly young enough to realise that the Twin Town Challenge has been one of my best experiences yet. Alongside me was Alex; co-driver, map-reader, translator, chief engineer and chef. And of course, Panda.
We weren't alone – so many of the companies (all sponsored to compete) created brilliant getups to support the great work Special Effect is doing to help young people with disabilities learn through technology.
There was a Ghostbusters car, all branded up with the right livery and all four competitors inside in full costume, at all times. We also kept passing a 'pink themed car', where all four of the competitors wore only pink clothes, took only pink luggage and drank only pink drinks! Needless to say a lot of rose was consumed!
We have to admit; we didn't exactly shine …. we didn't come last though. Some people got into minus points during the challenges, which involved driving round Le Touquet to collect a shopping list of random items, but we were dreadfully slow and spent an awful lot of time fixing the car.
But the atmosphere was amazing. The event was so brilliantly run, the people of Le Touquet came out to greet us – banners in tow – and it felt like the whole town was celebrating the Twin Town Challenge.
As an event, it paid off for Special Effect too – which was the whole point, of course. Their fundraising target was a quarter of a million, and they've already exceeded it. It's absolutely brilliant – an amazing event raising funds for an amazing charity. To see more photos of panda in action, and to donate to Special Effect, click here.