Telling the architectural story of Chicago – Data, Collaboration and Projection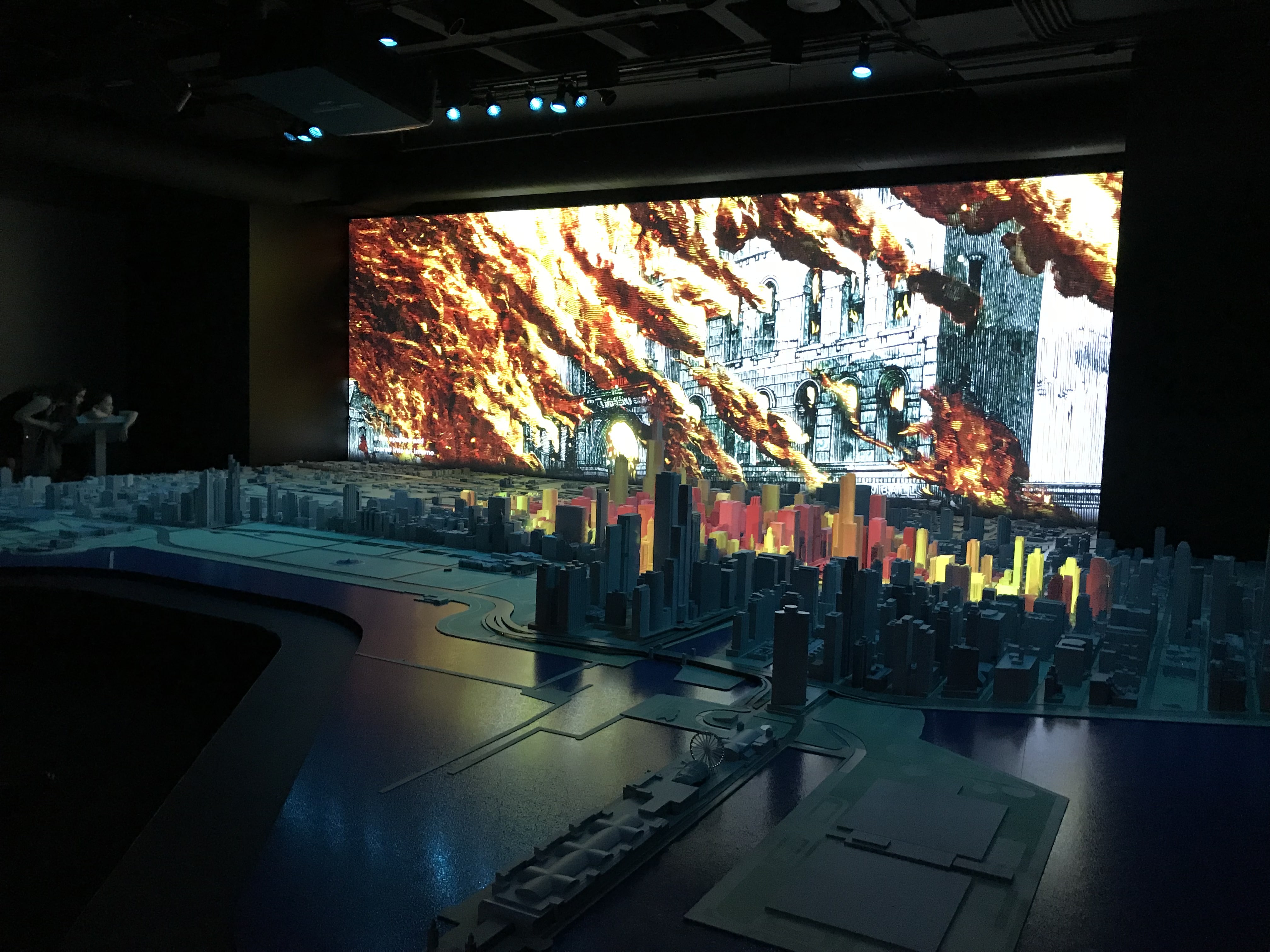 Did you know that the world's first skyscraper rose up in Chicago? And that Chicago has impacted the evolution of architecture all over the world throughout the 20th and 21st centuries?
Four Zero One, a London-based creative agency, has been commissioned to capture Chicago's architectural legacy through interactive 3D projection mapping for the Chicago Architecture Center's new home.
This is the story of how Four Zero One helped bring this exhibition to life.
Capturing Chicago's architectural history
Known as the Windy City, the first settlement in Chicago was founded in 1830 along the southwest shores of Lake Michigan with fewer than 200 people. Manufacturing, banking, commerce and culture flourished, fuelling phenomenal growth. But, it was the fire of 1871 that put the city on the map; the catalyst for its architectural status. The fire swept through a four-mile corridor, making 100,000 people homeless and destroying 17,500 buildings. In just days, a third of the city's wealth went up in smoke. Yet, the city roared back to life. Architects flooded there for job opportunities, and the city was rebuilt and given a new lease of life. This is where Chicago's architectural legacy was born.
Boasting some of the tallest buildings in the world such as Willis Tower (formerly Sears Tower, 442 metres) and 875 North Michigan (formerly John Hancock Center, 343 metres), and calling itself home to some of the world's most acclaimed architecture firms, the city's architectural heritage continues to flourish today. Four Zero One had its work cut out to help The Chicago Architecture Center communicate this history and design acumen to the next generation.
Creating an interactive architectural exhibit
The Chicago Architecture Center (CAC) wanted to create something memorable and give people a view of the city like never before. Already offering a priceless boat tour of Chicago, they wanted to give people a reason to come into the new Center and interact with Chicago's architectural legacy.
"We were invited to be part of the project because of our work with NLA (New London Architecture) in London. It didn't matter that we're a London based studio; collaboration tools like Dropbox Business and Skype mean distance is no longer a deciding factor in the tender process, it's all about who has the best experience to bring to the projects," says Matt Quinn, Creative Director at Four Zero One. "The CAC wanted to create something different and engaging that would leave a lasting impression. We came up with some ideas that would allow visitors to interact with the city in a meaningful way."
The new Chicago Gallery will include an immersive exhibit which allows users to directly interact with an impressive scale model of the city (more than 4,000 buildings) and enjoy an in-depth film that explores Chicago's design history through the use of 3D projection mapping onto the surface of the physical model. "Working with CAC, we explored as much of the city's data as we could find, always searching for information that we thought would be most interesting for visitors such as the path and speed of the Great Chicago fire. The CAC staff then put us in touch with the right people in Chicago who could share accurate data sources with us," says Matt. "Once we had all of this data mapped, we worked to find trends and narratives that we could visualise in interesting ways in order to help people quickly understand the major forces at work in a city as dynamic as Chicago. We knew the best way to do this was by using a series of projectors to map data visualisations onto the scale model of the city."
"We wanted to show how the great fire had devastated the city, to give people a real physical and emotive view of what happened to the city during the fire and its rebirth afterwards," continues Matt.
Collaborating with the Chicago Architectural Center to bring it to life
To bring a project of this scale to life takes considerable collaboration and effort from many people across the world. "On projects of this complexity, there's a real push and pull throughout the process—between designers and curators—to make the exhibition as visually interesting as possible for visitors," continues Matt. "Although during the six month project our team only visited Chicago once, we have collected and ordered thousands of gigabytes of data, shared countless files with the CAC team, and added hundreds of pieces of finished content to our 'Chicago Gallery' team folder."
The Chicago Architecture Center's new exhibition space launches on August 31st. Find out more about the exhibition or get your tickets here.