5 problems facing finance teams—and how a smart workspace could solve them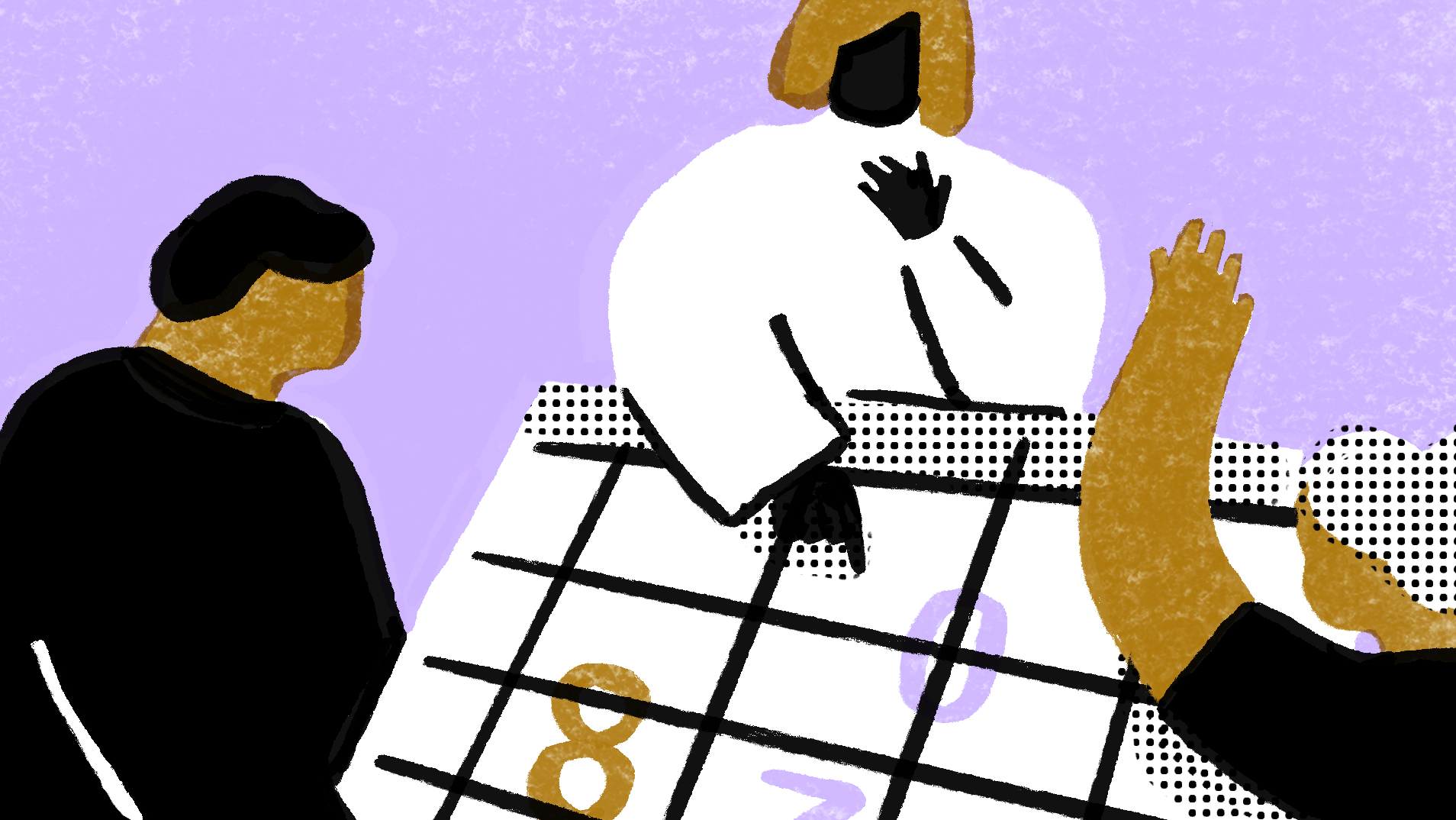 When you're in charge of overseeing your firm's financial activities and capital investment decisions, you're under a lot of pressure. Your company counts on you and your team to forecast revenue and costs, then run analysis if things don't turn out as expected. They look to you to predict the future and make the most accurate financial reports possible.
Doing that takes a massive amount of data—which can sometimes be your biggest ally or your biggest enemy. When you're able to share files and folders securely, you can protect sensitive information and preserve the privacy of your data. When you're dealing with more data than your spreadsheet can handle, though, it can bring everything to a grinding halt.
Lindsay Louie is a Sr. Financial Planning & Analysis Marketing Analyst at Dropbox. In her role supporting the Marketing team, she manages their monthly financial actuals, aligns them with the latest forecasts, and flags any significant financial risks or opportunities.
We asked Lindsay to share tips on how Dropbox can help finance teams overcome five of their most common challenges.
1. Staying on top of task requests from multiple channels
Lindsay says one of her biggest pain points is the need to check different platforms to make sure she's capturing all her to-do items for the week. "There are various channels a business partner could ask me a question or request analysis," she explains. "That includes email, a Hangout chat, a Slack channel, Slack direct message, tagging in a Paper doc or PO approvals in Oracle."
Because there are so many different channels for task requests, Lindsay's biggest concern is that she might miss one. She says she'd like to have one place where she could track all of her to-do items and find all of her files and chats. Which is exactly the problem Dropbox is solving with the smart workspace. But more on that later.
"I use the Paper checklist feature to keep track of action items that come out of my finance meetings with Business Partners," she explains. "It's an easy way to keep track of the actionable follow up items, who the responsible individual is, and when they are due."
2. Keeping cross-functional teams on the same page
Finance teams are held responsible for spends across the organization, yet often struggle to consolidate monthly results without duplicating files. They need to reconcile their forecasts with actual spends, but they don't always have context about how those teams spend their money.
"We work very cross-functionally, supporting various teams across the entire company, and we want to align current financial positions and expectations at a corporate level," says Lindsay. "On a monthly basis, we consolidate the significant variance drivers between actuals and forecasts."
Because every analyst has their own ways of gathering forecasts and variance explanations, it can result in conflicting versions. "That's where Dropbox becomes extremely valuable," she says. "We're able to consolidate monthly and quarterly financial outlooks at the highest level and consolidate our forecast variances in one document uploaded on Dropbox, to avoid version control issues."
3. Working with large files that are prone to crashing
Because FP&A teams work in spreadsheets that hold a ton of financial data, they often rely on macros and pivot tables. That can make spreadsheets large, slow, and prone to crashing. This is where Dropbox file recovery comes to the rescue. According to Ethan Markert, Senior Financial Analyst at Tinder, one of the benefits of using Dropbox is that when a large financial model file crashes, "All we have to do is restore the previous version and continue working. We don't have to reach out to IT for anything."
4. Sharing sensitive information with external teams
Financial teams often share extremely sensitive information—their company's financials—with people who don't work at the company—including accounting consultants, investors, and Wall Street analysts. If this information were to reach an unintended audience, it could open up the risk of insider trading litigation. And when you need to share a variety of content types with external team members, it can be even more difficult to keep everything organized.
When Dropbox FP&A teams need to share links to sensitive information, they set password protection and expiration dates, and disable downloads. "We restrict who has access to certain spreadsheets by protecting sheets or Paper documents by limiting access to only those who are invited to the document to prevent sensitive information from being accessed," says Lindsay.
5. Keeping reporting packages organized
Lindsay says each financial analyst supports a line of business in the company and works with their business partners to gather information. "We all have our own different ways of how we gather information when we meet with our business partners," she explains. "Personally, I work in Excel, then I create a Dropbox Paper doc summary of the financial highlights and key insights for the month."
Because all of the business partners need to present their information together, they keep things organized in a single Dropbox Paper doc.
"Every month, we roll up a financial package that includes each line of business," Lindsay explains. "This includes input from various analysts providing significant fluctuations or changes in the financial outlook and any risks or opportunities we see as a company," Lindsay says.
Putting together the monthly reporting packages in a summary Dropbox Paper doc allows everyone to add context around the numbers.
A smart workspace for finance teams
Dropbox recently introduced Dropbox Spaces as the first step in building the smart workspace of the future. So we asked Lindsay how she'd envision a smart workspace for finance teams.
"I have to request input from business partners at various times throughout the month, and I like to do it in the least intrusive way," she says. "I try to limit the number of reminder emails or follow-ups. If there was a place where we can go for submitted requests or to-do items, that would be helpful—we would have one place to go and also easily track the status of each request. It is easy to lose track of the status if all of them are in your emails."
Lindsay says her team is often linking to reference documents when they're requesting input from business partners. But when everything is on the same platform, it saves time. And that's exactly what the smart workspace does. With Dropbox Spaces, all kinds of files appear in the same place—Excel spreadsheets live alongside cloud docs like Google Sheets.
"I send links to specific Paper docs or specific spreadsheets, but if it's on the same platform, it makes it easier to search for content and keep files organized. When it's all in one place, it makes it smoother and easier."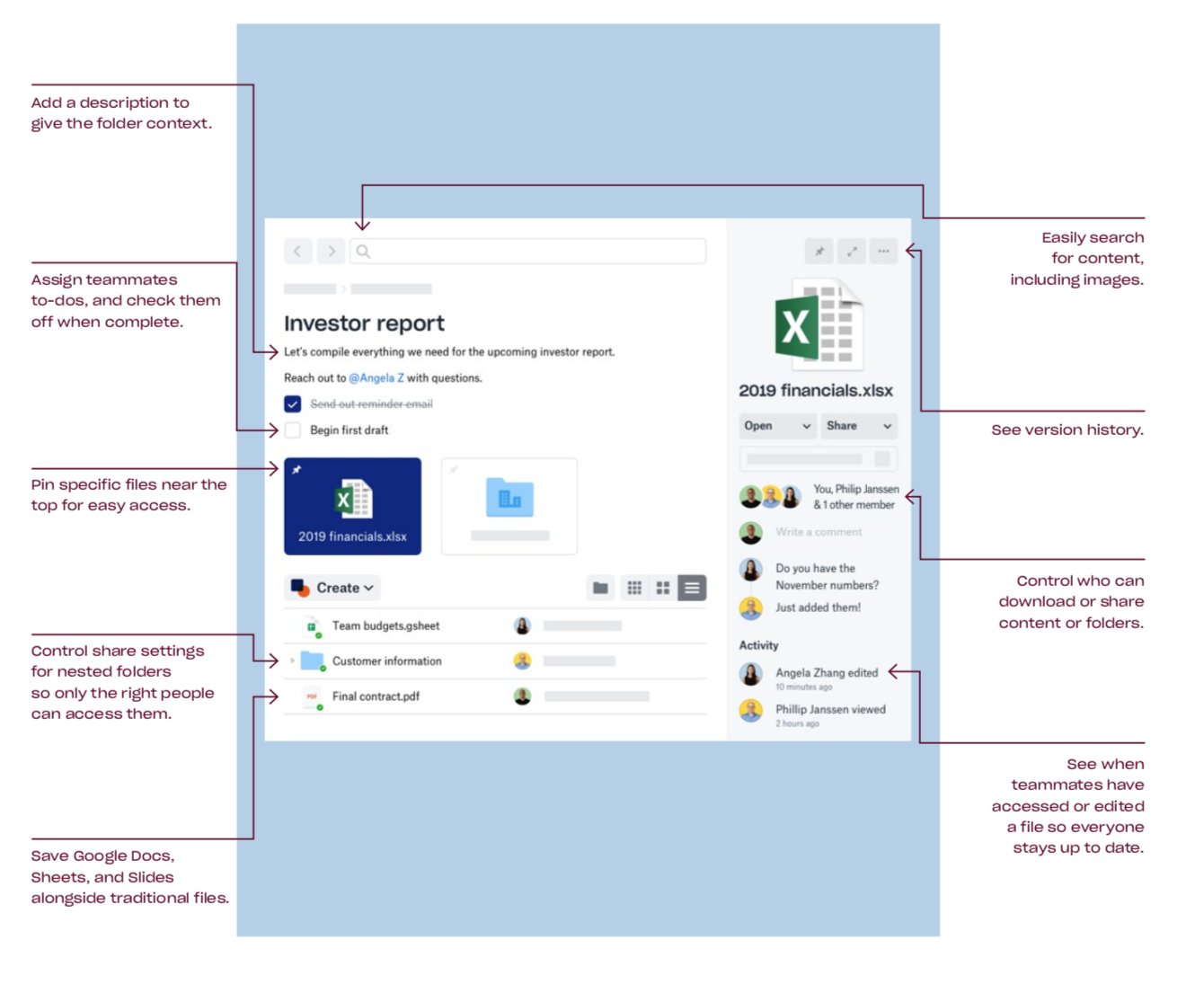 Quick tips for FP&A teams
Reporting to analysts and investors
Set password protection and expiration dates, and disable downloads for shared links to sensitive information
Preview any content saved in Dropbox, including Excel spreadsheets and complete PowerPoint decks, without having to open the source program
Deliver branded folders quickly with Dropbox Transfer
Tracking budgets across teams
Dropbox Spaces lets you keep traditional files like Excel spreadsheets in the same shared folders as cloud content like Google Sheets
Ensure only the right people can access a given folder or spreadsheet
Stay up to date on when people have viewed or updated files
Collect files from anyone without giving view access to the folder using file requests
Control share settings for folders nested within a shared folder so only certain people or teams can access them
Connect Dropbox to accounting tools your team is already using, like Xero and FreshBooks
Forecasting
Easily work with large Excel files and upload files without size or format limits. Whether you're editing the file online or in Excel, changes are automatically synced to Dropbox
Save time with our best-in-class sync, which is four times faster than our competitors.
Rollback to older versions of a file after accidentally saving the wrong changes—saving up to six hours per forecast
Restore a folder or your entire account to what it looked like before a mishap
Lock files when you're working on them to prevent others from making changes and creating conflicting versions (Opt-in for early access to this feature)
To learn how your finance team can use Dropbox to organise, share, and collaborate on large and sensitive files with internal and external stakeholders, visit dropbox.com/business.