Building smarter: how Dropbox is speeding up the construction industry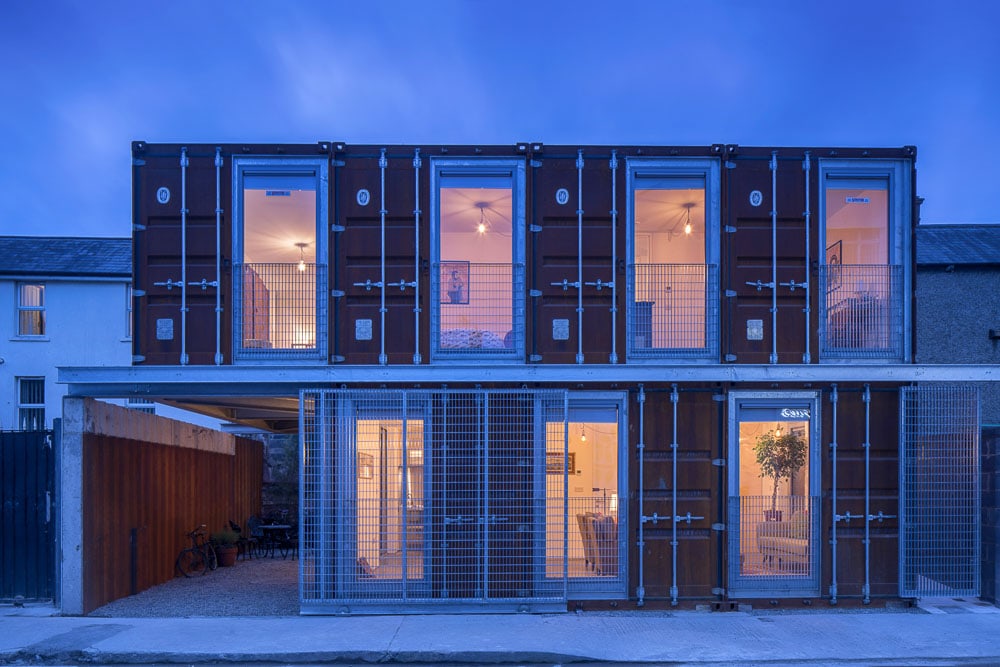 What kind of creative problem solving does it take to build a house out of shipping containers? Well, last week we sat down with LiD Architecture, an architectural practice based in Ireland and Buildstruct, a specialist construction firm, to talk about their recent collaboration to design and construct Ringsend House. Constructed out of seven shipping containers, it is the first of its kind in Ireland and, according to Irish Times, "…appears both alien and entirely of its place."
We asked how the project came about, how they had to innovate and problem solve throughout, and how Dropbox helped bring this collaborative creation to life.
The project
"We won a competition a couple years back to put together an outdoor arena space in front of what is now the 3Arena in Dublin," explains Dougal Sheridan, Co-Director of LiD. "We designed this arena structure out of shipping containers and on the basis of winning the competition, we were approached by a private client to build a house out of containers. We took the project on and conducted a lot of research into how we could do it and then put out a tender, calling for builders."
"There was something about the project that thoroughly appealed to me," recalls JP McGann, Director of Buildstruct. "Our firm specialises in the unusual or complex and the potential advantages of building with shipping containers are massive. They expedite the construction process, are more efficient and allow for staggered building development. They even allow for construction to be conducted off-site, before being transported and lifted into place. We wanted to be part of it because it was new and exciting, and were delighted to be invited to come and build it."
The construction process
The whole project was managed and orchestrated through Dropbox. From the sketch designs with the client, through to the planning and detailed design phase, all the way to construction and post completion, everything was managed centrally from Dropbox, and for good reason.
Visibility and auditing
"After the tender process, we were invited to join the Dropbox folder for the project," continues JP. "We then shared the relevant folders out with our surveyors and subcontractors. All the information we needed was in one place and it was put together in such a way that everyone had direct access to what they needed and nobody had access to what they didn't. We collated all the information needed into the folders where it was viewable by the architects. Then, if any changes were made to the designs we were all notified immediately and we had a full audit trail for the project."
No need for email attachments
For the architects, working with builders, surveyors and contractors in this fashion presents some great opportunities to save time and build in efficiencies. "Having everyone coming together, being able to communicate directly and collaborate on documents in one location in Dropbox is incredibly useful," says Dougal. "In the past, we would be sending hundreds if not thousands of emails back and forth with attachments. Keeping on top of it all was a monumental effort and more often than not something would get missed that could cause setbacks and cost us time and money. With this project, that just didn't happen, because of Dropbox."
Expedited communication
"The design phase was massively sped-up too," says Deirdre Mc Menamin, Co-Director at LiD Architects. "Printouts of drawings are eliminated. Communication between different elements of the design team are improved and enhanced. There was, a much more direct and instant dialogue between the structural engineers and the architects, and that was evident throughout this project."
Flexible, mobile working
Working onsite for the duration of the build poses its own challenges with communication and sharing changes too. "One of the biggest issues for me as a builder is that I don't sit behind a desk on a computer so accessing or downloading files onsite can pose a huge challenge," explains JP. "I can be on a roof or in a concrete pit, so downloading the latest architectural drawings is nigh on impossible. With Dropbox on my phone and iPad, a few taps and I could view, comment and keep myself up to speed with any changes."
"During the build we documented everything with photographs," continues JP. "Using Dropbox, it all happened automatically and built up a timeline of the build. It simplified the post completion stage because it is essential to have the prerequisite photographs for the specific details for each stage of the construction. And, on this project it gave us plenty of opportunity to provide insight and visibility to journalists and trade publications who were interested in the build."
Post completion process
Along with documenting the process with photographs, all buildings must be certified regarding compliance with building regulations. Using shipping containers to build a house meant this was a more involved process than usual. But, with Dropbox acting as a centralised platform for the project, even this complex task was managed simply. "It saved us so much time it's almost impossible to quantify," says JP. "It's unbelievable the difference, the freedom and the trust it gives us. More often than not we have to work across multiple projects with multiple architects, working with Dropbox has now become essential. Safety files and post-event documentation for all those projects could get lost, but with Dropbox it's all in one place making it easy to pull together the physical folders at the end of a project."
Asked for their thoughts on the future of construction and the role that technology will play in helping push the sector forwards, both parties were excited. "We are a small practice with just three colleagues," add Matthew Beattie, Co-Director at LiD. "New technologies are allowing us the time and capabilities to manage more and larger projects. Dropbox has been at the centre of our transformation and with its integrations into other core applications we use the future looks bright for us and the construction industry in general."
JP says, "I've been using Dropbox since 2012 and have enjoyed its continued evolution over the years. Tools like Dropbox have become so user friendly and collaborative that it means we save valuable admin time. Now of course, everything is heading towards automation which is making it even more convenient as we are having to do less to get the same end result. We can get back to building our business and I think it bodes well for the future."
For more stories about the construction industry, head here. Or, if you want to find out more about how Dropbox could work for your construction business, head here.