Dropbox Future of Education Report 2020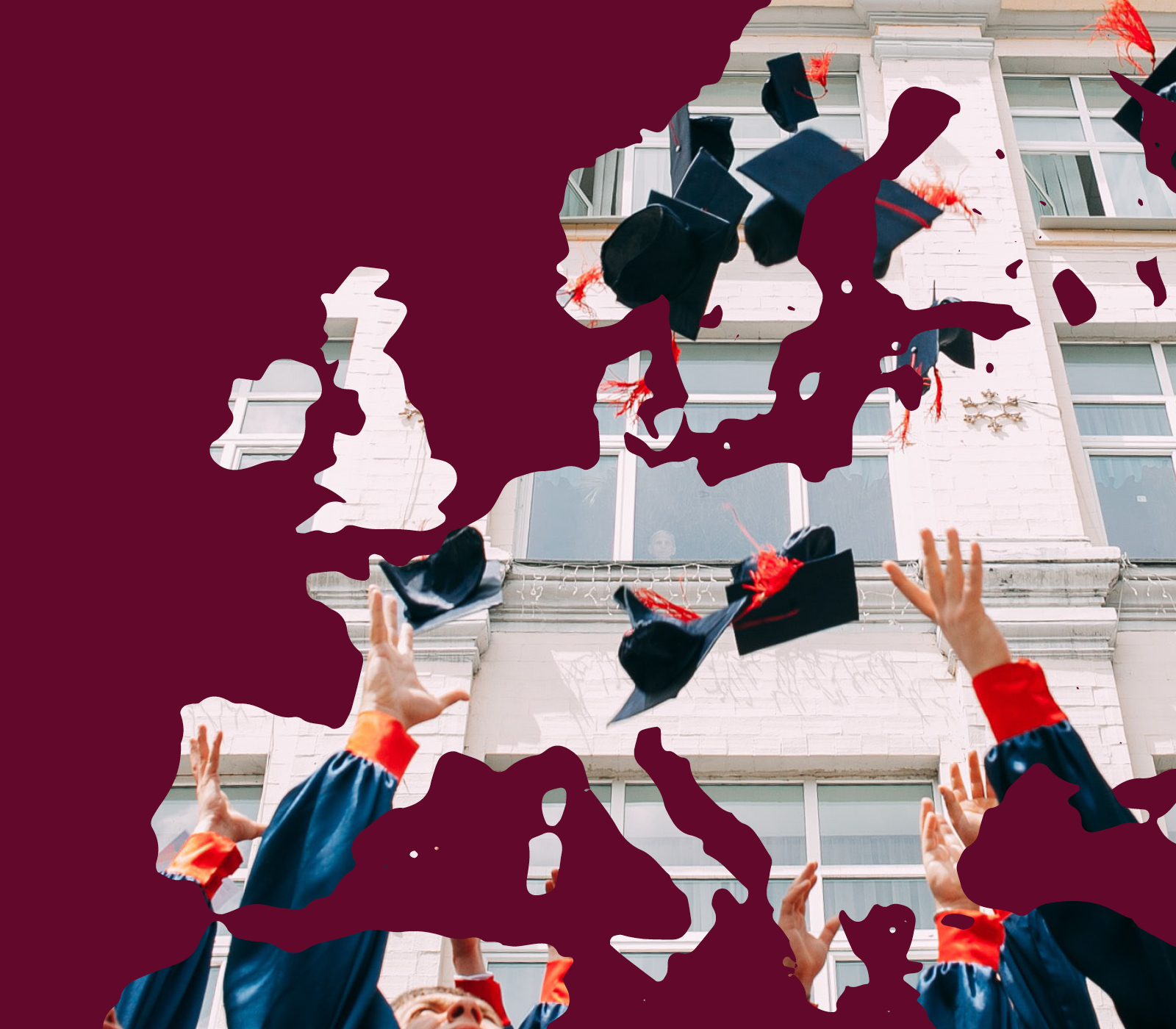 Increasing diversity among learners, a shifting job market and an undercurrent of rapid digit
ali
sation
, these
are just a handful of the major challenges education leaders are up against right now
.
This disruption makes it crucial to change how you operate to keep up with learners, competitors, and the latest developments in tech. 
To get to the heart of the issue, we approached industry experts
from leading European universities
with a question: how
do you
continue to innovate in education without losing sight of the
learner/human element
?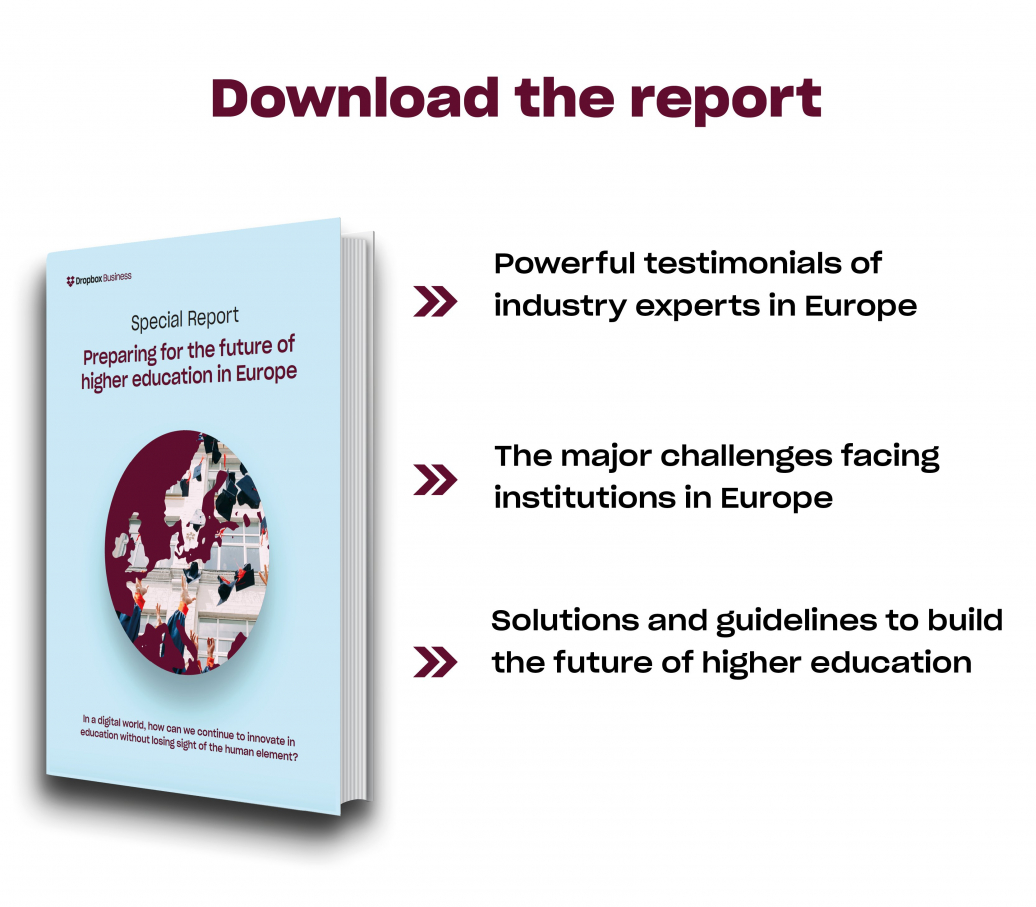 Move away from a one size fits all culture
According to Mark Brill, Senior Lecturer in Future Media at Birmingham City University,
innovation is about moving away from a
'one
size fits all
'
approach to teaching:
"
We
should be able to give
our students
the freedom to choose the tools they want to learn with
–
the tools they believe will give them the best learning experience."
Uncertainty
though, about the right technology to deploy
can make institutions reluctant to act
, and it
'
s this hesitation – particularly as we move towards a more remote teaching and learning culture – that will hold institutions back
. 
Enter Boris Paillard, CEO & Co-Founder at
coding bootcamp
Le Wagon:
"Constant
experimentation is critical for staying ahead of the competition and continuing to innovate"
.
Boris is right
,
the sooner you can get the wheels in motion and set a clear action plan on how to
prepare for the future of teaching and learning
, the better.
Innovate, but keep people front and centre
Throwing tech at
the
problem and expecting a solution is unlikely to
yield results
, especially given students and faculty have different expectations and abilities when it comes to technology
.
But, what the research did highlight is adopting a more human centric approach to technology will.
S
tudent
expectations
are
high
and
with their
busy, always-on lives
,
it
'
s vital you personalise education around their needs, rather than expecting them to adapt to your way of doing things. 
To quote Dr. Claudia Mössenlechner, Head of Learning Solutions at the MCI in Innsbruck
,
"
[
Students]
want to know they can learn in a way that best suits them and fits around their life, and it
'
s our job to enable that." 
Being
future-ready
,
doesn
'
t mean filling your schools to the rafters with gadgets. It means keeping innovation front-and-centre in everything you do – and
teaching the soft
skills
that will stand the test of time
, and prepare your students for the world of work
. 
One of our experts, François Debois, Head of Innovation at CEGOS, put it simply:
"Anyone
can learn hard skills
[…]
We have to offer students something different, and that difference is soft skills."
Differentiate your brand
With student expectations high, and remote teaching and learning becoming common place,
cultivat
ing
prestige
and teaching these soft skills is what will make your institution stand out. 
The reality is your institution is teaching the same curriculum, in the same way, with little differentiation to others. Something that can be
addressed
, according to our experts, by investing in the right technology, and working with alumni, faculty, and local businesses, to distinguish your brand experience
(both
offline and online)
. 
In the words of Fabrice Bardèche,
Executive Vice President at IONIS Education Group
,
there
'
s space for everyone in the market
.
"We
must focus on what we can offer over and above others. It is this commitment which will stand us in good stead going forward."
Finding your niche is an important first step, but achieving excellence will require you to empower your people to work smarter, collaborate better, and focus their efforts on driving value. Fundamental to this is giving them the right tools to do the job. 
Higher education is undergoing rapid change
,
but
it
'
s
an
opportunity, not a threat. Taking steps to modernise whilst keeping
people
at the heart of what you do will provide a better experience for learners and educators alike – one which
better
prepares them for
the
world of work.
Read the full report
Download the full report for more information on how higher education is changing and to see how other transformation experts are tackling the challenge. Get your copy now.