Introducing Dropbox Spaces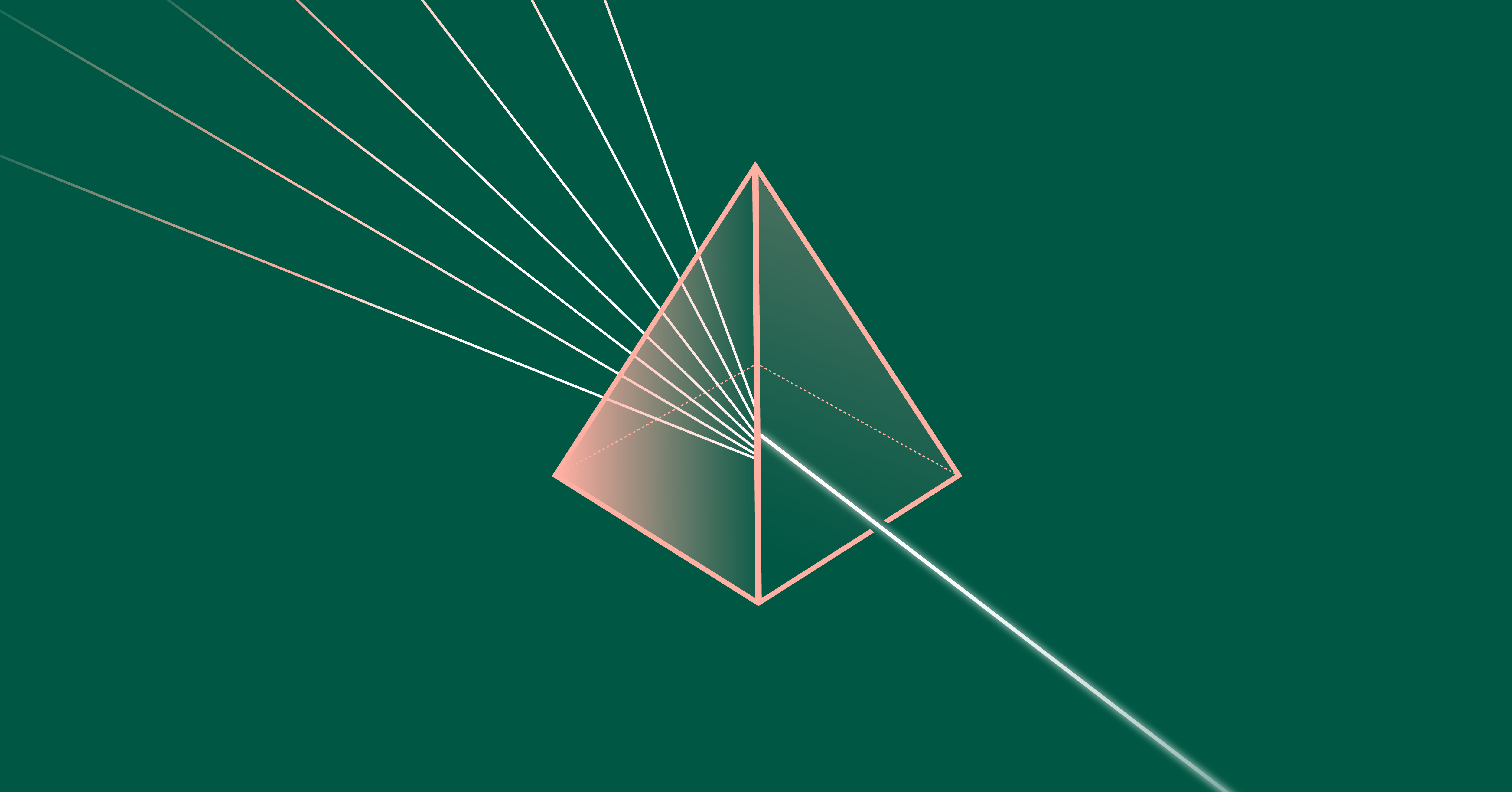 by Dropbox Team
Work has become too complicated. When you spend your days bouncing between chat threads, status updates, and multiple file types, keeping track of all the details can feel like a second job. We think technology should reduce distractions and take busywork off your plate. That's why Dropbox is building the world's first smart workspace—to bring all of your team's content together while letting you use the tools you love, so you can focus on the work that matters.
The shared folder, reimagined
We're excited to announce that you can experience the smart workspace today with Dropbox Spaces, the evolution of the shared folder. Dropbox Spaces transforms your folders into collaborative workspaces that bring your team's content to life. It's built with machine intelligence to help you stay focused on your most important work, and gives you new ways to stay in sync with your team. Spaces is accessible via the new Dropbox desktop experience, dropbox.com, and the Dropbox mobile app.
Here are some highlights of what's new and what's coming soon.
Be organised
Dropbox Spaces brings cloud content and local files together. With Spaces, you have new ways to access everything you need from one central place.
Image search. Save time getting to the images you need by searching for what you see in the image across JPG, JPEG, PNG, and GIF files. Looking for a file with some clothing, but you can't remember the file name? No problem—just search "clothing," and find your image instantly. Image search is rolling out to Dropbox Professional today on desktop and web, and coming soon to Dropbox Business plans.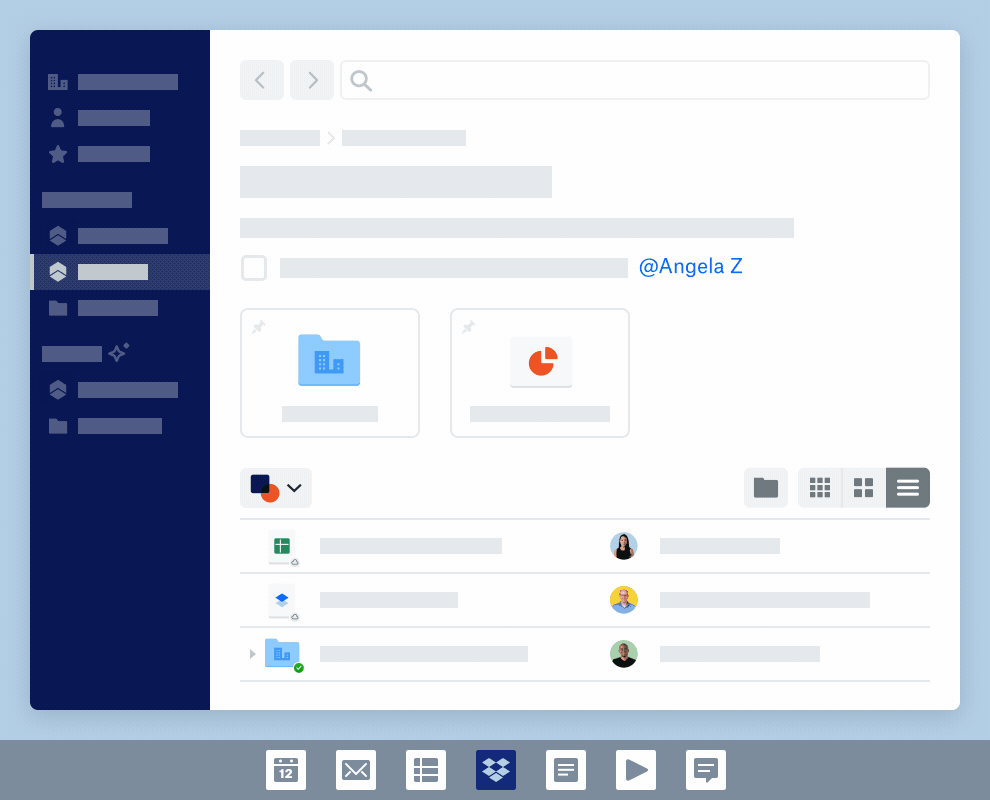 File previews. Preview files in high fidelity—including AutoCAD files—right from your desktop even if you don't have the native application installed.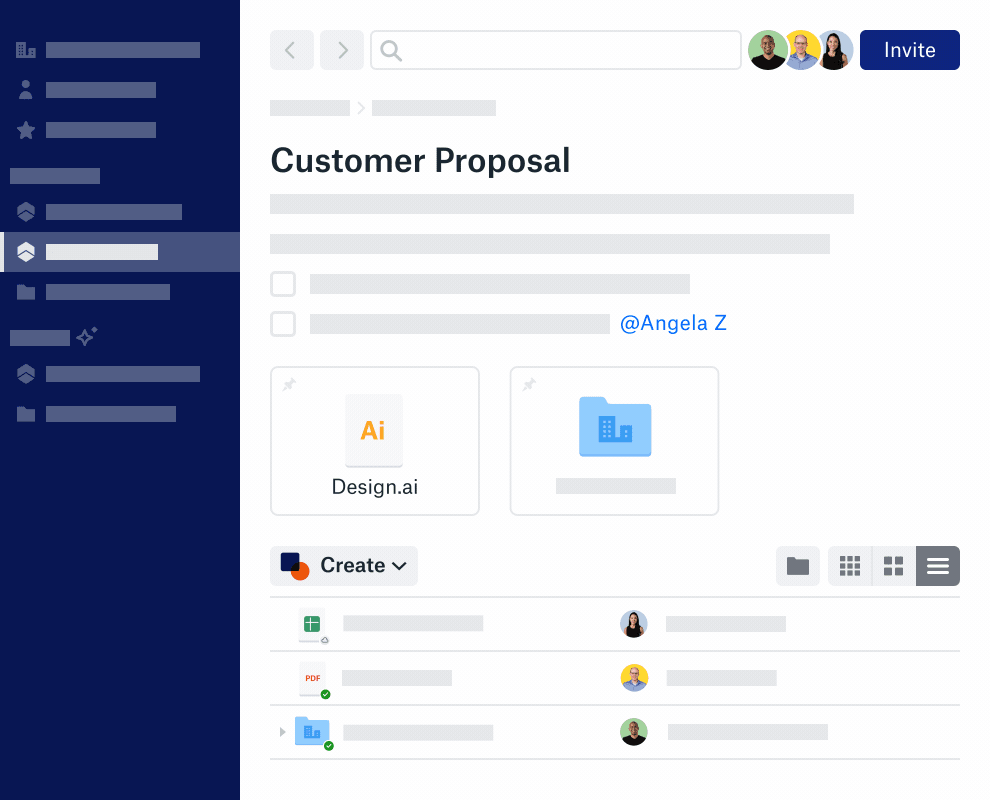 Starred files and folders. Get to your most important work fast from your desktop, by starring the files and folders you use the most for quick access.
Paper integration in the Dropbox file system, which makes it possible to create, store, and access Paper docs from Dropbox. The release is available to new Paper users starting today, and will be available to existing users soon.
Dropbox Binder. Coming soon—Compile all of your Dropbox files, including images, PDF's, cloud docs, and more into a single Dropbox Binder, so you can share the published versions with the team.
Search highlights. Coming soon to desktop and web—Easily search for key phrases across text within files and overview descriptions to find what you're looking for, even if you don't remember what file or folder it's in.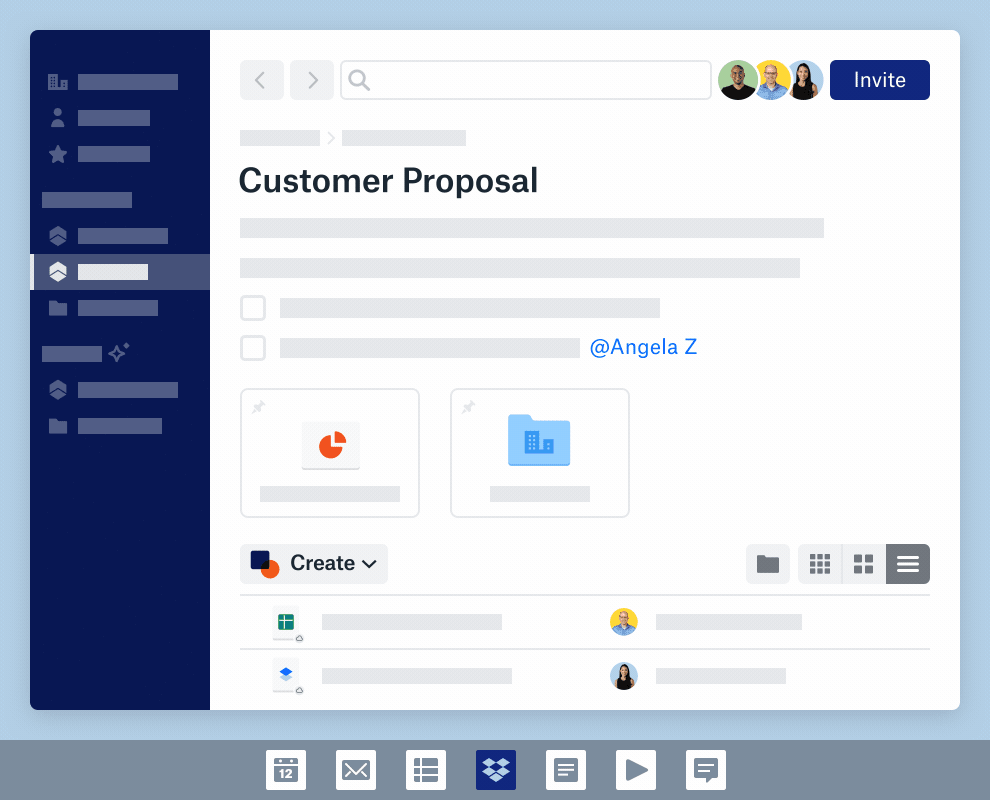 Stay focused
Tune out chatter and distractions so you can focus on what's most important. With Dropbox Spaces, you can bring priority projects to the top so you don't get sidetracked by to-dos you don't need to do.
Team highlights on your desktop. Stay focused on the most important work by seeing the most relevant activity from your team.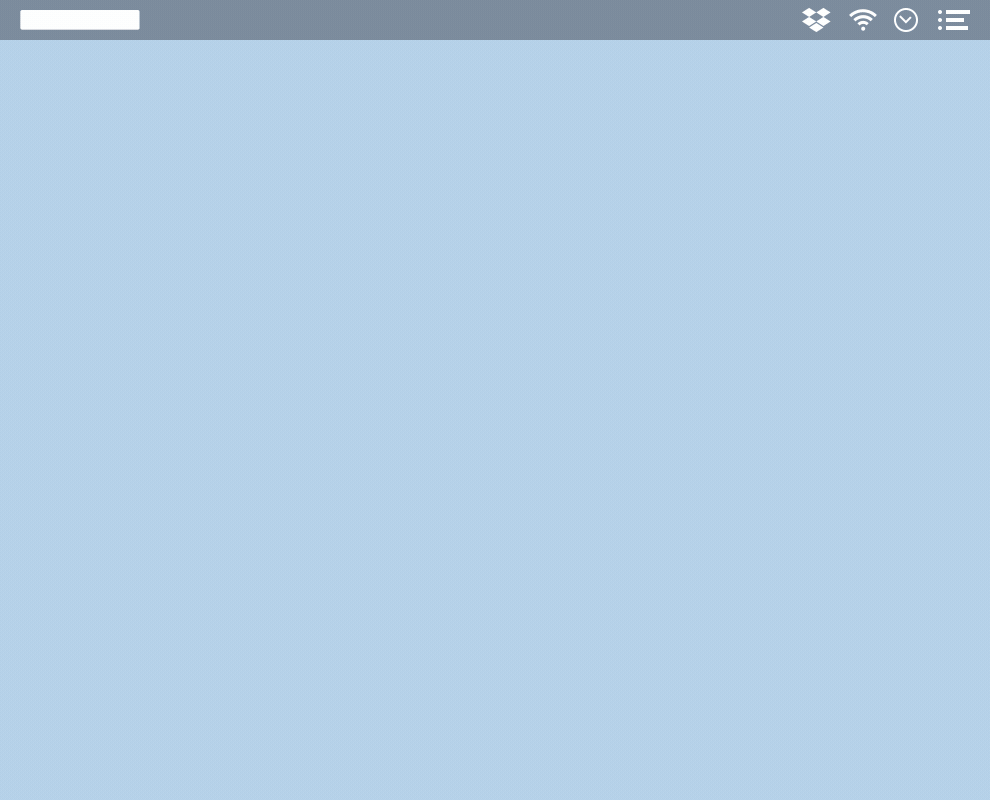 Content suggestions right on your desktop. Machine intelligence helps you stay a step ahead by suggesting the content you're most likely to need right now.
Calendar integration on your desktop. Prepare for meetings more effectively by attaching and sharing content for your upcoming meeting, getting quick access to suggested files, and accessing meeting note templates.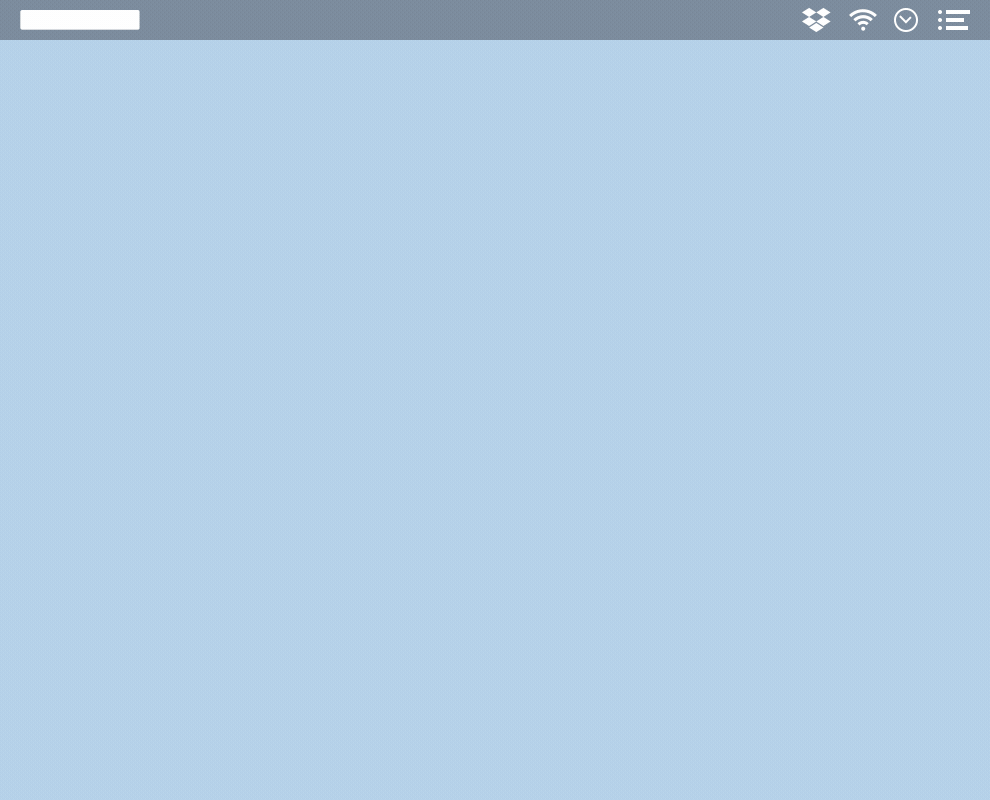 Get in sync
Spaces helps your team see the big picture and stay on the same page, using the tools you and your team prefer.
Overview descriptions and to-do lists. With Spaces, folders are no longer just places to store your work. They're the home base for collaborative projects. Put content in motion by writing overview descriptions, to-dos, and key milestones right on the folder.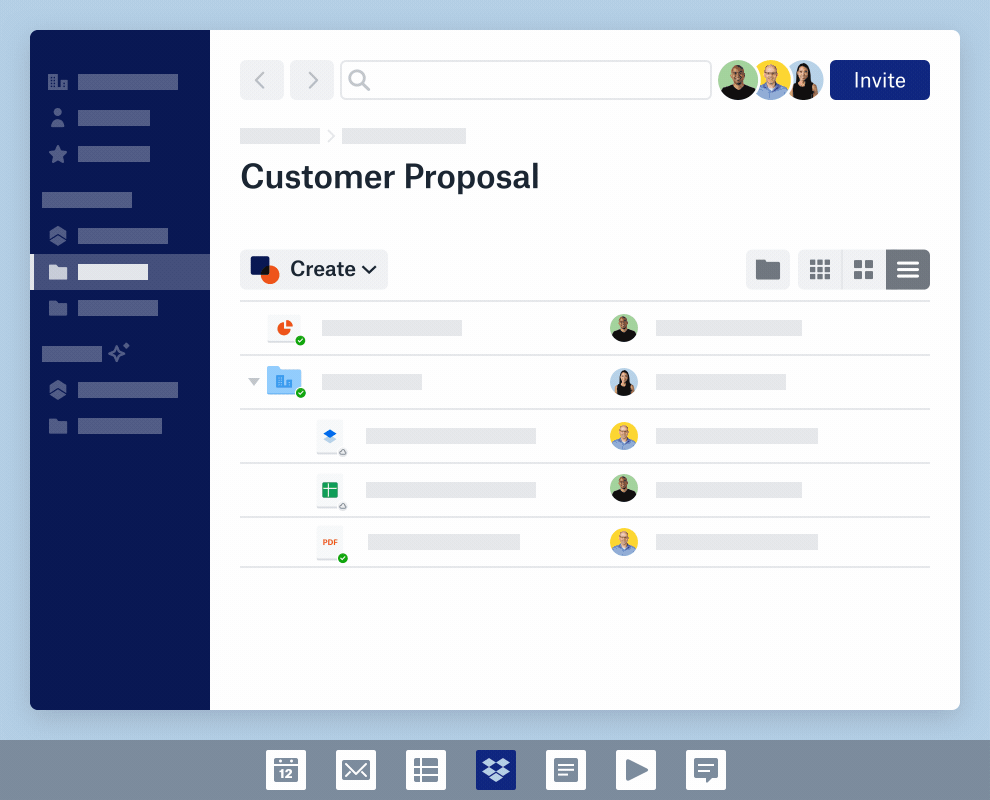 Overview notifications. Close the loop on the progress of shared work by getting notified when updates are made to folder overview descriptions and to-dos, so you can get in sync and keep on schedule.
Comments from Dropbox on your desktop. Now you can create, view and resolve comments right alongside your files on your desktop, making it easier to get feedback on your content.
HelloSign integration. Newly designed to let you sign with just a few clicks.
Trello. Coming soon—add Dropbox content to Trello cards and preview files so your tools are more seamlessly connected.
We'll also be adding new capabilities in the months ahead including new features, like Dropbox Transfer—a new way to quickly and securely send large files with password expiration and viewer info.
Dropbox Spaces is the first iteration of the smart workspace that we all need—we're excited to see how Spaces can help you stay focused and do your best work. To learn more about Dropbox Spaces and other new features, visit dropbox.com/features/new.